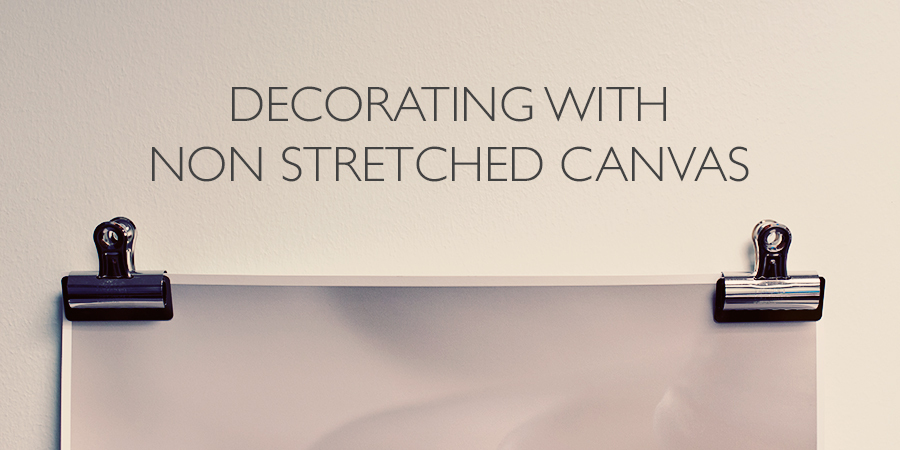 When people think about canvas prints, they typically picture a stretched canvas print that has been completely finished by mounting the canvas on stretcher bars for that three-dimensional look. Non-stretched canvas prints are images printed on canvas using the same equipment and quality, but aren't spanned and mounted over stretcher bars. These flat canvas prints can be used in a variety of ways for decorating and add a touch of the unexpected for a boost of decorative appeal in any room. Here are some original wall d&eacutecor ideas fon how to hang flat canvas prints.
Mount Small Non-Stretched Canvas in Shadow Boxes
Shadow boxes can add a finished look to your non-stretched canvas prints while inverting the traditional stretched canvas look for visual appeal. When framing your non-stretched canvas in a box frame, you can add mementos and other embellishments without attaching these directly to the canvas itself. Depending on the box frame that you use, you might also be able to change your mind later and take your canvas print out for a different original wall d&eacutecor idea.
Hang Non-Stretched Canvas with Clips
If you like the idea of being a bit unpredictable, hanging non-stretched canvas prints with clips can give you a unique finished look. One way to do this is to find a clip that is decorative enough for display (I like the 3" long bulldog clips that you can buy from an office supply store). Then simply clip the non-stretched canvas one one end or both ends if you prefer. Then hang the clip on the wall. This can be a great money saver. This original wall d&eacutecor idea is great for large areas that you want to cover with a big piece of artwork but you don't want a framed piece.
Do Some Heavy Embellishing
You can embellish any type of canvas print since the material lends itself well to cooperating with many different types of fixatives and adornments. Most people avoid using heavy embellishments on stretched canvas since over time heavier additions can cause uneven wear on the canvas. With non-stretched canvas prints this is less of a concern and opens up whole new avenues for canvas-based decorating! Plastic and wood letters are a popular choice but you can also add really unexpected items, like small framed pictures, to a non-stretched canvas image.
Hang Non-Stretched Canvas with Ribbons
Ribbons are a nice feminine touch that go with most d&eacutecor styles, though you may be most familiar with it in its shabby-chic incarnation. If you are wondering how to hang flat canvas prints with ribbon - all you need to do is attach the ribbon to the back of the canvas using either archive-safe glue or by sewing it with a heavy needle. The color of the ribbon you choose can help your print blend with your existing d&eacutecor. If you like, you can add a bow to the top of the ribbon to help hide any nails and add balance. You can hang stretched canvas prints with ribbons too! Simply staple the ribbons to the inside of the stretcher bars behind the canvas to avoid damaging the print.