Finding the perfect photo frame depends on personal taste, but using your existing décor and the subject of your photo as guidelines can help you narrow in on the right choice. Your choice will also be guided by quality, since a low quality frame can actually damage your photos and artwork, as much as by cost. The key is striking the right balance between these needs without breaking the bank.
Start with Your Interior Decorating Theme
It is easiest to choose a photo frame when you already know where the frame will be placed. If you're like me and take more photos than you know what to do with, it's probably easier to choose the frame before you even choose the photo! Start by looking at the décor in the room where the frame is likely to go, and choose three words that describe that room's décor style – for example, eclectic, blue, and seaside. There's no reason to spend a lot of time debating, since chances are the first three words that come to mind are the best fit. Next, think about what types of frames will go with these three words. For an eclectic room, there is space for slightly different styles of frames, but you wouldn't want to go too far from the existing dominant color (blue) or theme (seaside). Something silver or white that isn't too heavy would probably work well. If the room has a lot of molding, especially corner molding, a wood frame should be fairly close to the same color and style.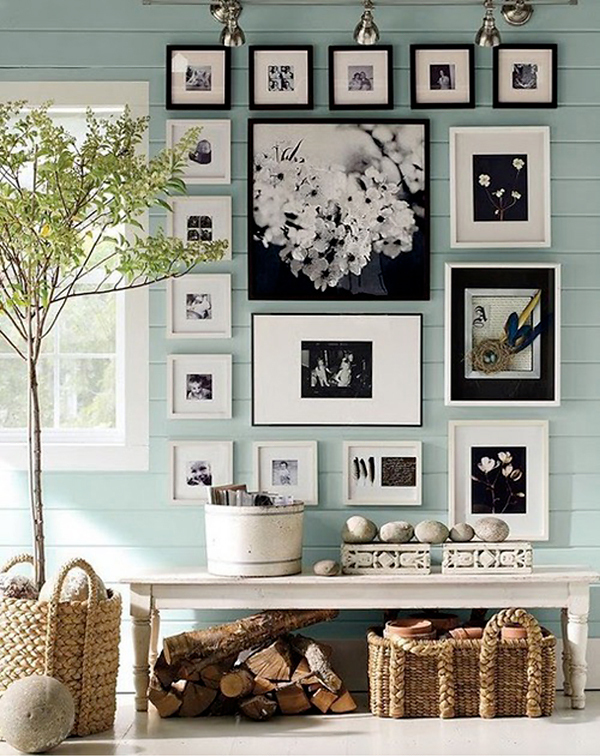 With the colored wood wall, these simple black and white frames fit well.
Via Pottery Barn
Think About the Photo
The photo you want to frame will be your next consideration. For starters, what size photo do you want to have? Pay attention to the quality of the picture to make this decision, since pictures taken on camera phones rarely look good in sizes any larger than 3x5. Next, think about how the room goes with your photo. If the room has a lot of blue and the photo has a lot of white, it might be better to choose a silver frame to provide contrast and make both the frame and photo noticeable. The photo you choose will also influence the shape and thickness of the frame you choose. Portraits, for example, can be easily overwhelmed by thick or ornate frames, and are often set off best by thin square frames. Subjects like flowers and other macros lend themselves well to circular frames, since the shape will echo the natural circles in the photo.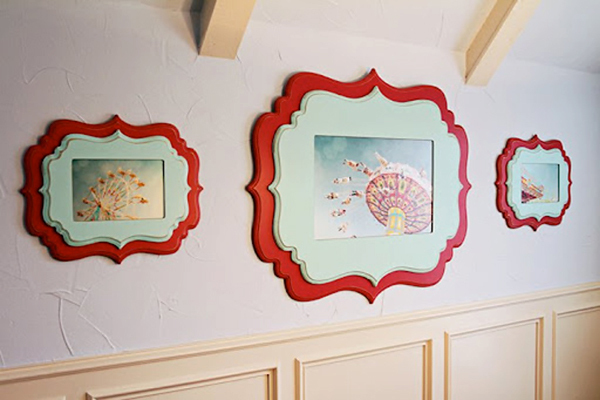 The color and shapes of these frames evoke the carnival subject and color.
Via Small and Chic in Cville through Pinterest
Look for the Frame
Once you have an idea for the frame you want in mind, the search for the perfect frame to match your photo and décor is easier. With all the time you spend on interior decorating, you probably already know which shops to visit to find the frame you want, but looking at some online frame sources first might help too, like
Sixtrees
and of course,
Pinterest
. If you find the perfect frame style but it's in the wrong color, or if you're looking for multiple sized frames but can't find ones that match, there is still hope. Krylon manufactures spray paints that work on metal and wood at a reasonable price, and can be found at almost any hardware store. It's much easier than you might think to spray paint a frame, and the result is always truly original. Better yet, if you're willing to do this you can buy mismatched frames at estate sales and spray paint them to fit.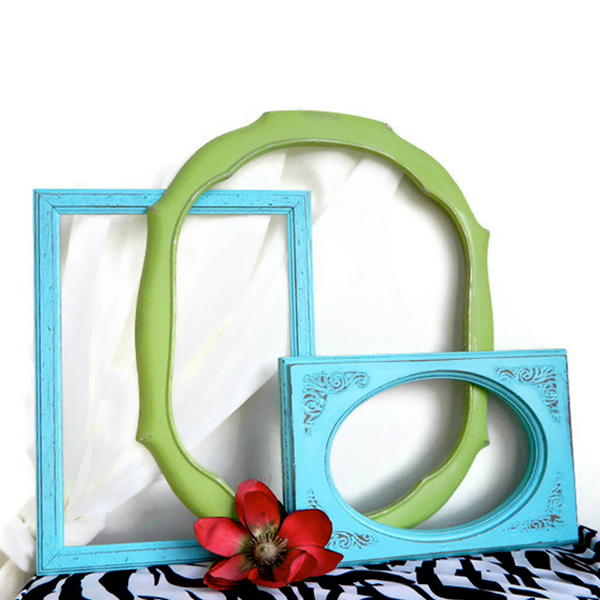 These spray painted frames were made to match.
Via ElaLakeDesign through Pinterest Choosing a frame with your photo and décor in mind will help your interior decorating style stay intact on any budget. With a great photo and a great frame, you're sure to get compliments from visitors – and your family might even notice the update, too! Photo Credit Links:
Pottery Barn
Organic Bloom
ElaLakeDesign