When it comes to home decor you do not need to spend a small fortune on wall collages or wall hangings. Nor do you need to purchase someone else's work of art. With many families on a tight budget these days, decorating with personal and treasured photos from your recent vacation or even your backyard "
staycation
" can liven up a bare wall and make a standout statement on a DIY budget. The key to decorating your walls with small photo prints is to create a theme. A theme helps tie your images together and brings focus to each print. Some examples of themes include:
Headshots of your children's faces
Photos that span the color of the rainbow or that have similar hues and tones
Travel shots from your various vacations
A progression of yearly images that shows the growth of your children
Macro shots of flowers
Your favorite Instagram photos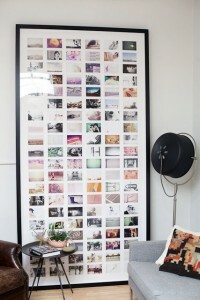 Photo Wall
Check out this DIY project that uses lots of favorite small images in a large display frame. What I love about this particular project is it manages to display 120 favorite images in one large frame. It can be easily moved from one wall to the next or from one home to the next. You can pack it up and easily take it with you. For the fastidious person, it does not require holes in the wall to support it (although, since I live in earth quake California, I would recommend fastening it to the wall with some double sided tape or wall putty so it does not come crashing down).
Instagram Gallery
If you're not already familiar with
Instagram
– then it's time to snap away. As we mentioned in an
earlier post
on our blog, most of us have cameras in our mobile devices. That means we can take memorable shots wherever we happen to be. So why not create a wall gallery of your favorite Instagram photos? In this example just print out your images on photo paper then glue those to a poster foam board for easy hanging. Like the first DIY photo wall example, it creates a great wall gallery that's also portable. Create several of these and hang them side by side.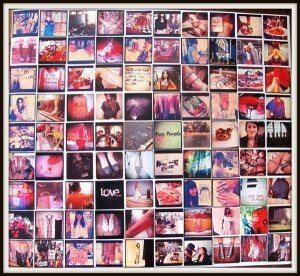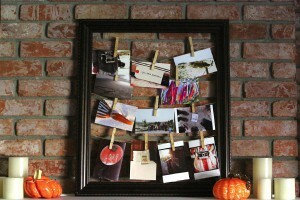 4x6 Display Frame
These days printing a bunch of 4x6 photos just costs pennies per photo. Print off your favorite images and display them in this simple yet elegant and charming DIY display frame. All it requires is an old frame that you can pick up at any garage sale or flea market. Next, add some wire to the back, and hang up your images with some wooden clothes pins or charming clips and you have a revolving display of images. You can choose seasonal images for the holidays or kid mugs that make you smile. Change it up as often as you want. Then prop it against a mantel where you can see your images every time you walk into the room.
Room Appropriate Wall Art
Just for fun my niece likes to take "rear-end" photos of animals exclusively for her bathroom. I liked that idea so much I started a "rear-end" wall in my small powder room. It is definitely a conversation piece for any home and I know it gives a good chuckle to anyone entering our powder room. I found inexpensive frames for these 5x7 prints. Now all I have to do is head to the zoo to snap more photos of animals to add to my wall. Your wall could take on a different theme such as eyes or smiles. Whatever it is, snap up some images or look through your archives that highlight a focal point. It will leave a lasting impression.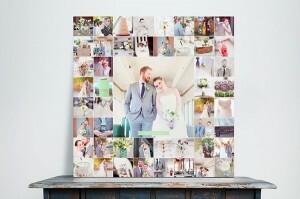 Center of Attention
I recently discovered this wonderful way to display lots of smaller images that surround one focal image. It's perfect for a wedding or baby's first year. What I love is the large center image showcases your favorite photo while it is framed and surrounded by images that recall that special day or the baby's first year. For a photographer this is a great way to showcase lots of your images. I'm going to start showing a digital example of this to my clients so they can imagine the possibilities for their home décor. Found on Design Aglow's website -
www.designaglow.com
For
great wall arrangement inspiration
check-out this recent post that shows a variety of ways to place your images on a wall. Your images can be 5x7, 4x6 or 3x5 and fill up a wall with a lifetime of memories. So what are you waiting for? Create a wall gallery for your home that brings a smile to your face every time you see it.
Tina Case is co-editor of two blogs, Parent Grapevine and Moms Who Click. Follow these boards and more on Pinterest. You can also find her on Yahoo! When Tina is not busy writing she is also a photographer snapping up family and lifestyle photos in the San Francisco-San Jose area.
Links to photos in order:
http://blog.freepeople.com/2011/07/wednes-diy-instagram-photo-wall/
http://www.momswhoclick.com/2011/11/getting-crafty-with-photo-display-frame.html
http://www.flickr.com/photos/momswhoclick/7022339665/in/photostream
http://www.designaglow.com/store/product.php?pid=226