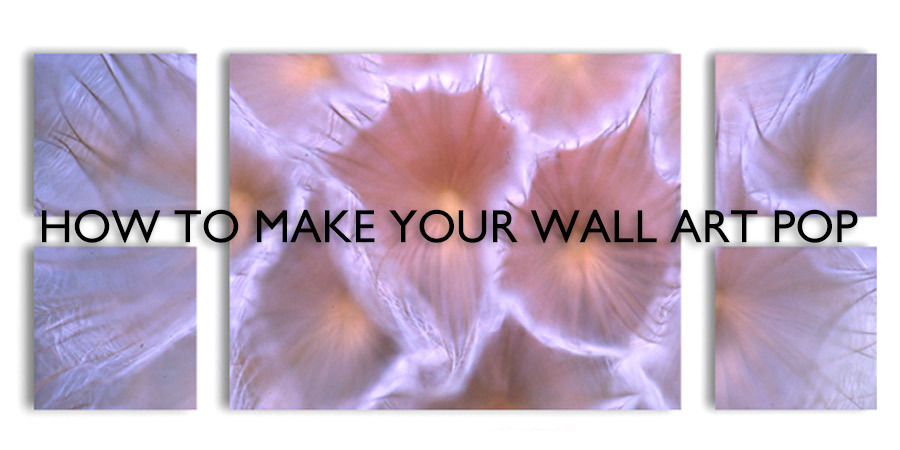 Accent walls and boldly patterned furniture aren't for the faint of heart, but wall art that pops and grabs viewers' immediate attention can be for everyone. No matter the color of your walls, if your wall art is vibrant you can have an instantly bolder, more energizing living space. Always remember: If you go with what you love, you can't go wrong! We've pulled together a few ideas to help you create wall art that pops out and adds new dimensions to your living spaces.
Create a Unique Wall Collage
There are nearly limitless ways to do a wall collage; you can use pieces that are framed or unframed, do a literal collage on the wall or use a large backing, or mix and match artwork and knick-knacks from a variety of sources. One thing that all wall collages have in common is their ability to become an instant center point! Including bold graphics in words or patterns with your collage adds to the multimedia effect and is yet another opportunity to add colors and elements that will make your wall art pop.
Use Distinctively Sized Art
Distinctively sized artwork can add a pop in the same way that brilliant colors can, by adding the unexpected. Canvas Press offers canvas prints in nearly any dimension so that you can find the right fit for your wall art. Using panoramic dimensions where the length of your print is considerably longer than the width for horizontal photos or vice versa for vertical photos might be the easiest way to add character with your size choices. Pairing differently sized canvas prints is another way to play up the unexpected element and make your wall art stand out.
Amp Up Your Accent
Colors, that is. Using contrasting colors as accents in your wall art allows you to go bold without the time and expense of repainting the walls, which means it's easy to make a change when the time is right. Bright colors always demand attention, and can be attractive counterpoints to neutral colors in the rest of a room. If you are going for an of-the-moment look, jewel tones are on trend for this type of accenting. You can also use patterns as accents in your wall hangings. You will find these accent colors in the artwork you select. Let's say you love the color orange, but you don't want to paint your whole wall orange. You could find or even print a piece of artwork that features that color. Another way to accent your wall art with color is by using that pop of color on the sides of a canvas print or in the color of a frame. Be sure this color is featured in the art or compliments your artwork rather than clashes with it. At Canvas Press we love it when our customers choose a color border and use a color other than black or white as the color we print on the sides of the canvas. By choosing that complimentary color and having it printed on the edges of your next canvas print your eyes are instantly drawn to it. It doesn't overpower the artwork, but rather it is a nice surprise that you and your guests will love.
Light Up Your Art
A key step that is often forgotten is lighting your art so that it becomes the focus and is shown to its best advantage. Spotlighting is the most current way to do this but if you do not want to install new lighting in the ceiling, you might consider moving your current floor or table lamps to throw a bit of extra illumination on your new pieces. You could go a step further and take a visit to your local hardware store and pick up an art light. They are very easy to install and most plug into a wall outlet. They hang over the art to give the perfect amount of illumination. The only downside to it is the cord and how to hide it or make it blend in. That may have to be a whole other blog topic. The main point is that with the right lighting your wall art will pop off the wall.