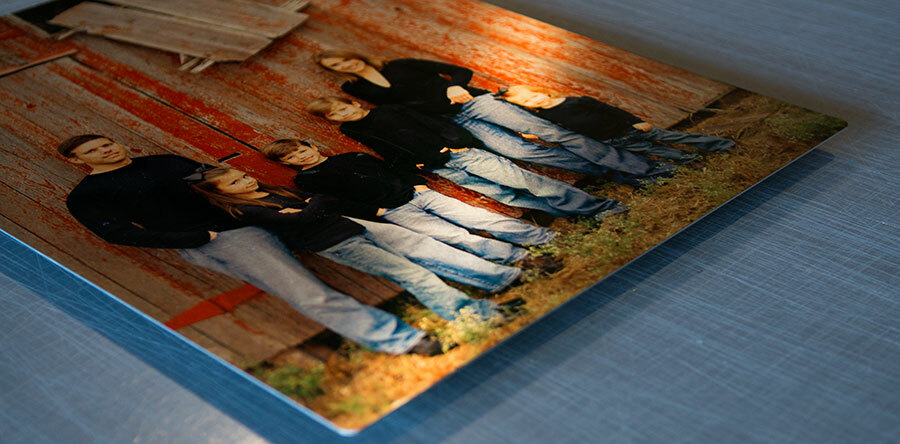 We at Canvas Press are dedicated to providing the highest quality possible for all of the different types of art and photo prints that we produce, and our metal prints are no exception. When we receive an order for a metal print we first review the image quality to make sure that it's a good fit for the size ordered (which we do with all print orders that come in!). The image is then printed onto specially prepared heat transfer paper that is applied to the sheet of aluminum that will carry the image. Next comes the fun and unique part of making this type of print: the image and aluminum are pressed together and baked. The heat of the baking process activates the inks and causes dye sublimation: the inks from the image transfer to the aluminum, actually becoming bonded to the metal surface for a permanent, extremely durable work of art.
The Benefits of Metal Prints
Using the dye sublimation process to create our metal prints has several benefits over the alternative method of simply printing an image on metal. Because the inks are bonded to the aluminum the image won't scratch from cleaning, even if you use basic household cleaners; no special care with these metal prints is required. The bonding also provides superior durability and light fastness, meaning that there is no image fading. Artistically, the dye sublimation process we use results in a color vibrancy that must be seen to be believed. The beautiful gloss and vivid colors that this process creates can interplay with even the dimmest light conditions for a work of art that absolutely stuns. The three dimensional effect of the finished metal piece and the surface of the completed image only add to the attractive qualities that these metal prints possess. Better yet, even though our process is time intensive you'll still find that our prices on metal prints are not just competitive, but affordable.
Ready to Order Your Metal Wall Art from Canvas Press?
We want your metal prints to turn out perfectly, every time. We are excited to show you how impressive our metal prints actually are! These tips can help you select the right image for your first metal print:
Because metal prints are printed on silver aluminum, processed images do not have the typical white balance of canvas or photo paper printed images. Instead, a different color conversion is used to create metal prints. This aids in the overall vibrancy of images, but be wary of images that are mostly white; although even in traditional image printing true white is fairly rare, the chromatic differences in white subjects become noticeable in metal prints.
Choose images that are very sharp and have high resolution for your metal prints; there is much less ink "blurring" on metal than there is in other printing processes, and the sharpness of image edges on metal prints is a major benefit to play up!
Pick your most vibrant images to see exactly what metal prints can do – the colors in flowers, landscapes, sunsets, and even street photography will stun on your finished product.
If you have questions about our metal printing process or the image you are considering using, feel free to contact Canvas Press for a
free image consultation
before getting started. We are always happy to help create metal canvas wall art from your photos!