One of the up and coming trends we are seeing in photography is called iphoneography. That is the term used for the phenomenon of people using their iPhones (and other smart phones) to capture the world around them. Two of the most popular camera apps for the iPhone that can add a little extra flavor to your photos are
Instagram
and
Hipstamatic
. They each have a variety of film "looks" that will alter your photo. With Instagram you take the photo first (or choose an existing photo from your camera roll) then pick which film effect to apply to the image. If you don't like it you can always change the filter. Hipstamatic is a little more like having a traditional film camera. The app comes with a variety of lenses and film types. Each combination will give you a different look to you photos. They are both equally fun to play with to create some amazing photos. One other large difference between the two is Instagram is built as a social community of people sharing their photos. Like Facebook, you can follow people...like their photos and make comments. It is fun because it is all visual based.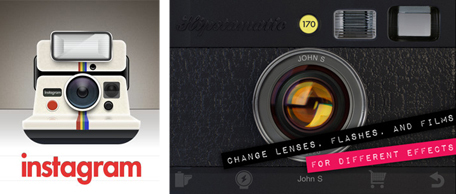 If you have played with either of these apps you know how cool you can make ordinary things look. They are both perfect for taking photos of everyday experiences, but they can also challenge your creativity by trying to create cool little art photos. This new trend called iphoneography is definitely proof that the best camera you can own is the one that is in your hands. Ok, so you have taken some photos with Instagram and Hipstamatic. What now? Rather than having those photos (that are just oozing with awesomeness) get stale on your camera, let me show you how to make a simple Instagram photo collage to print that you will love forever...and will probably make your friends want one too. It is super easy to create a canvas collage because both camera apps make your photos square...so there won't be any hard math involved. The hardest decision will be how large of an Instagram photo collage you want to print. I have organized about 25 photos from a beach trip my family took this past summer. It was the only time during the year that the whole family was all together so it was extra special (Mom, Dad, 4 adult kids, their spouses, 6 little ones, an Aunt, and 2 family friends for a total of 19 people..whew). Here are the steps I took to create this one of a kind canvas print collage:
I sized each of my photos to 5"x5"
After sizing my images, I created a new file in Photoshop (25"x25" at 180 dpi). One of the nice things that we offer is custom sizing for our canvas prints. You don't have to worry about sticking with a certain size. Feel free to experiment.
Now I just need to do copy each of my photos into the 25"x25" file I created and arrange them however I like them (Each photo will be on a separate layer). I went ahead and did mine in chronological order...that will help jog my rusty memory on what happened when. After I have them all arranged I am pretty much finished. I just need to flatten my image in Photoshop, save it as a JPG, and upload it to Canvas Press.
Once I have uploaded it to Canvas Press. I am going to choose the 1.5" depth canvas. I am also going change the border style from image to COLOR. With the color border option selected I will ensure that my entire image will stay put on the front of my canvas. I think I will choose Black as my border color to give it a "framed" look. Then, I just choose my size from the drop down menu - 25"x25" and I can add it to my cart.
Here are a few of my
Instagram
and
Hipstamatic
photos that I used for my final collage to print. This is just one idea you can do with your iPhone photos. And don't think you are limited to doing this with JUST your smart phone photos. You can try this with your any photos you take. There are endless possibilities of arranging your photos in a fun way to create canvas collages that commemorate an event, a person, or even a series of art photos. We can't wait to see what you come up with.