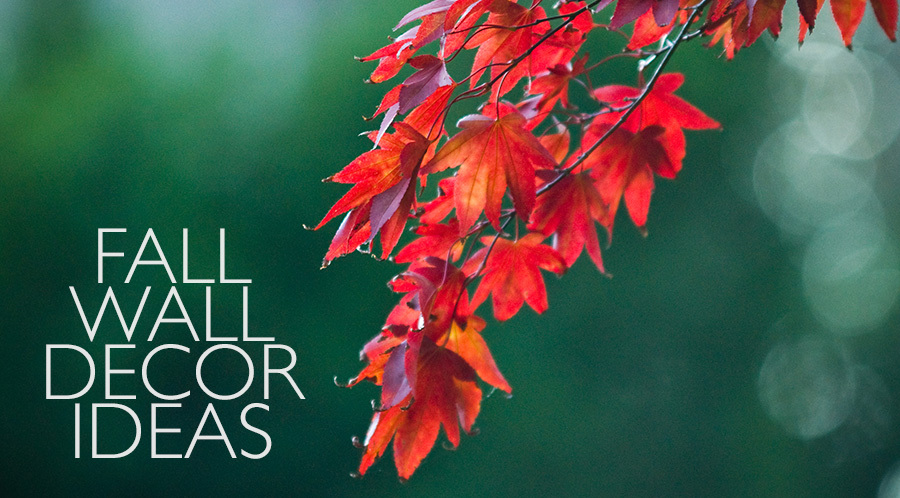 Fall weather is officially making its way south through the temperate zones of the U.S. The September Equinox will happen on September 23
rd
this year and we're already seeing the rebirth of pumpkin spice flavoring and other heralds of fall. To celebrate the season, here are a few fun fall canvas wall decor ideas to bring the warmth and comfort of the season into your home.
Ideas for FALL CANVAS WALL DECOR PRINTs
Canvas prints are great display vehicles for your best fall photography. The warmth and vibrancy of a quality canvas print can bring out the warm and varied tones we associate with fall and make any room in your home look fall-ready in a snap. Landscapes of changing trees are classic and never tire, but if you're looking for a little something different, give yourself a photo project such as:
Extreme close ups of fall foliage that show the colors and veins of a leaf in detail. For a twist, convert an exceptionally clear close up of a fall leaf like oak into black and white.
Pumpkin and gourd still life. Arrange a group of different varieties, sizes, and colors of gourds to take a still life you'll enjoy year after year.
Celebrate fall flowers. Mums and sunflowers are just two types of flora associated with fall for their color and seasonality. Unfortunately, these flowers don't last too long indoors. Keep your fall flowers looking fresh by hanging canvas prints of your favorites.
Fall Themed Shelf
No matter where you go in the U.S., pumpkin is the symbol of the fall season. Uncarved pumpkins and gourds both real and artificial are attractive décor items, but can be a little tricky to mix with other décor. A fall themed wall shelf is a good way to display these along with other items, like dried corn kernels in attractive glass holders, which welcome fall. For an added punch, arrange your shelf underneath a large fall themed canvas print of a landscape or fall still life.
Multimedia Fall Wall Collage
Multimedia wall arrangements are tried and true attention getters, especially when there is a theme to tie your chosen objects and artwork together. Mix and match your canvas prints with framed art like:
Pressed fall leaves. These do not have to be real to look great; many arts and crafts stores sell artificial florals or pre-made paper cut outs to save you time (or allergies!).
Colored paper. Thin paper or fabric in fall patterns and colors can be framed and matted on its own, especially if you love a pattern find and aren't sure what to do with it.
Fall themed photos. Mixing fall themed photos with other fall items is a great way to use photos you love that might not stand alone.
Are you ready to celebrate fall? With easy ordering and fast turnaround from Canvas Press, you can order your fall themed canvas prints and have your décor ready for the season long before Halloween. Take
a look at your options
for perfect fall canvas prints today!
This article is written for Canvas Press. To find out more about Canvas Press' products visit www.canvaspress.com.