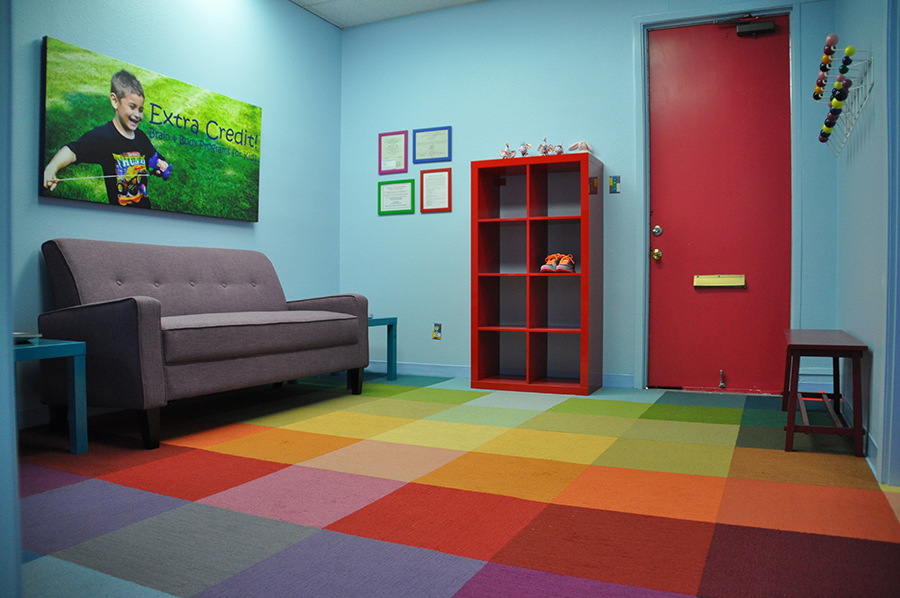 Extra Credit in Austin is an innovative occupational therapy and developmental learning facility for kids ages 5-12. The aim is to serve school age children with unique needs related to hidden disability. Recently the founder of
Extra Credit
, Missy Menzes, came to us with a vision for their facility. While modest in size she wanted to make a big impact with color, comfort and happiness. To do that she needed a custom sized canvas print to be placed in an activity room at the Extra Credit offices. We are honored that a canvas that we created is hanging in the Extra Credit offices. We hope that everyone who sees it smiles when they see it. We think Missy did a great job of picking out a photo that exudes joy, hope, and innocence. We also love the decorations she chose for the room. I don't know what child wouldn't love having a floor like that for a playroom. Even the red door gives a little wink of whimsy and helps tie the room together.
What Ties the Room Together?
This goes to show you that whether you are in an warm and cozy home or a stuffy office building you can make a room uniquely yours by adding a few touches. The floor, paint colors, the door, and of course the canvas print all tie the room together. Together they give a room (which could be in an old office building) a sense of entering a different world.
How Much Room Should Artwork Take Up?
The size of the canvas print is 60" wide x 30" tall. It fits perfectly over the couch by following a good rule of design. If you are going to put artwork over your couch (or fireplace or bed) make sure that the total length of the artwork (or pieces of artwork) is at least three-fourth the length of what you are hanging it over. For couches and beds it is ok to go the whole width of the piece of furniture. It makes a great impact and ensures that the artwork won't get swallowed up by wall space. That doesn't mean it always has to be one big canvas print or photo. You could frame several photos, canvas prints, or metal prints to hang above a couch or bed and it will do the trick as well. When you are hanging artwork over a fireplace mantle you don't want to go all the way to the edge with the artwork. It is better to give the artwork some room to breathe. So filling 2/3 to 3/4 of the space is good. We hope this gives you some inspiration for your home or office! Let us know if we can help out in any way.