You have tons and tons of precious memories stored in photographs, from your family's vacation in Europe or trip to the beach, to your kid's first dance or your son in his first ice hockey uniform, or even of your cuddly dog who has practically become a member of the family. Whether the pictures are of your wedding or of your child's graduation and athletic achievements or of your unforgettable vacations or simply of your family fooling around doing silly poses, all these photos are works of art in their own respect which you want to and you should show off to other people. The problem may be that you don't have a ton of wall space to display everything you want. Here are a few simple suggestions on how to create a display that you can easily change out at a moments notice and you won't keep putting new holes in your walls.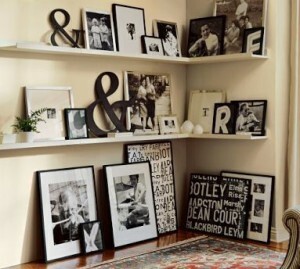 Collect and Select
The first thing you should do is to organize all your photos and choose which ones are most suited as canvas prints to be displayed in wall collages. It's really up to you to select what images should be turned into canvas photo prints and which ones should be framed behind glass...and even which ones can stand on their own unframed and not as a canvas print. These displays should reflect your family's most memorable moments. The other pictures can be put together in photo albums or scrapbooks that you can place on coffee tables and bookshelves.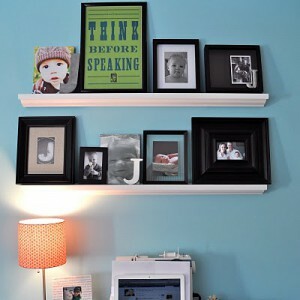 Pick Your Spots
Now you do not want your prints displayed just anywhere in your home. Whether at the Louvre in Paris or your town's local museum, there should always be a semblance of order and organization in the presentation. Your photos are similar to works of art that deserve the same treatment. Wall collages can brighten those long hallways leading up the stairs or to the bedrooms. It will add visual appeal and make those boring pathways aesthetically pleasing. Photo ledges are a terrific idea that will allow you to display your canvas prints, framed prints and anything else without damaging your walls. Put a little panache'! Be creative when hanging the ledges. You can decorate both sides of the hallway with single horizontal ledges, or you can use several horizontal rows, or even a rectangular formation. You can even use ledges of different lengths just to break the monotony!
(
http://www.ehow.com/how_12143635_arrange-picture-ledges-long-hallway.html
, 06 March 2012).
Whatever ledge formation you choose, just make sure that display will be start at the eye level. Such works of art will be wasted if they cannot be seen!
A Whole New Display
The great thing about photo ledges is you can just keep rearranging your canvas prints to create new wall collages every time you feel like it, and you don't have to bore new holes in the wall to do so! If you have new canvas prints or even a piece of art your child created, you can either remove some of the old ones or you can simply add them to your collection.
(
http://www.ehow.com/how_2074520_display-family-photos.html
, 06 March 2012).
Try grouping different canvas prints together, or do it by themes! During the holiday season, you can use your wall collages as part of your decorations by showing off your Christmas images. Or when June comes along, put on the photo ledge all your family's summer vacations. Your family memories have now become rotating art collections!