The Rule of Thirds is probably the single most important thing to learn when your start practicing your photography. It will automatically make your photos more interesting. I didn't say it would make your photos great, but it will definitely make them more interesting to look at. When we talk about The Rule of Thirds we are basically talking about Composition or the placement of key subjects in relation to one another in the photograph. So whenever I use the word "composition" I am talking about "the rule of thirds" and vice versa. Have you ever heard of people saying, "Well he/she has a great eye" when it comes to photography. More than likely that "eye" they are talking about relates to how you compose your photographs. You can be born with a great "eye" or you can develop and practice your composition and develop your "eye" for composing great photographs. This is where The Rule of Thirds helps out those people who may be "Composition-ally Challenged" (by the way, I know I am using quotations waaay too much in this post already so I will try to cut back). So, what exactly is The Rule of Thirds? The wiki definition states: an image should be imagined as divided into nine equal parts by two equally-spaced horizontal lines and two equally-spaced vertical lines, and that important compositional elements should be placed along these lines or their intersections. Let's simplify that shall we. Have you ever played tic-tac-toe? If you drew out a tic-tac-toe board across your photo like this you will have the guidelines for the rule of thirds: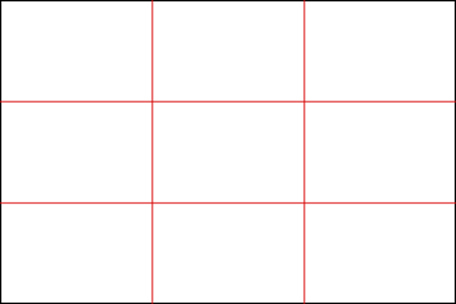 So what should you do with those lines. Well let's go back to simplifying the Wikipedia definition. I'll break it down like this. Don't put your subject (in this case...your kids) smack in the middle of the frame. The rule is you don't want to split your subject in half (both vertically or horizontally). Use these lines as guides to place your subject on one of the lines for a more pleasing composition. This rule is especially helpful to those of you who like to dabble in a little vacation photos or landscapes. The general rule is that you shouldn't put the horizon line in the middle of your photo. Place it closer to the top third or bottom third of the photo. Now let's go one step further. The intersection of the lines on your tic-tac-toe rule of thirds are called "power points"...no...not the Microsoft software. These are areas of a photo where your eye naturally falls. So if you can compose your image to have one of the important elements landing on one of the power points your photo will be that much more compelling and interesting to look at. Here are where those power points are at: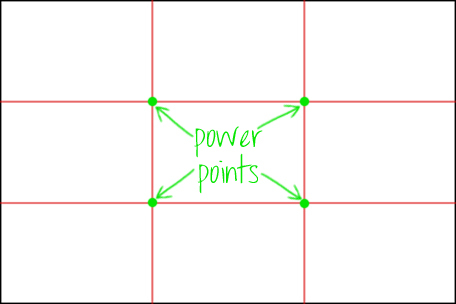 Allright. Now it is time to show you some real world examples of some good uses of The Rule of Thirds so you can get an idea of how you can use it the next time you are composing a photo of your kids. None of these photos are split down the middle. In some of them the subject is just off to the center, but it makes a big difference.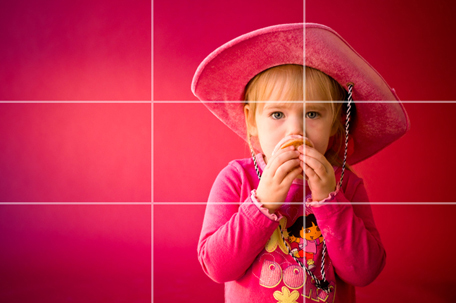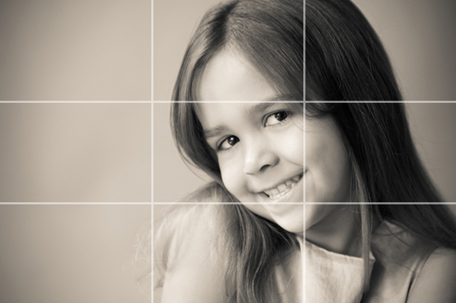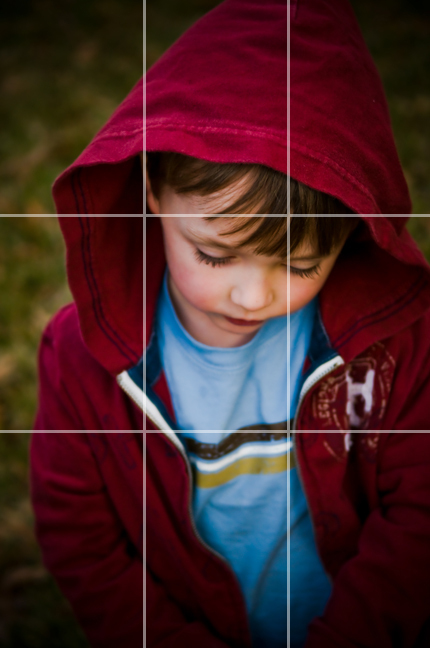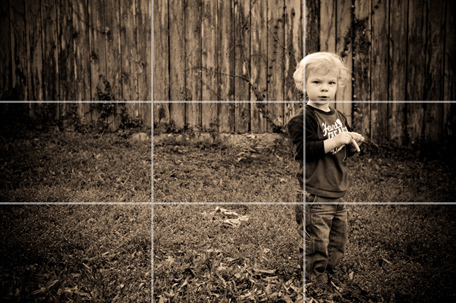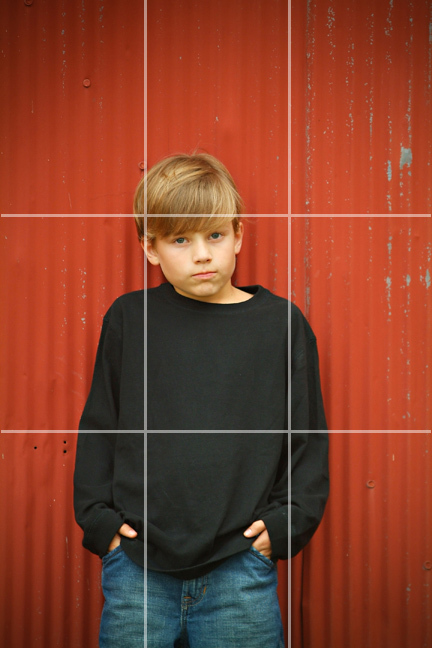 This last photo is a good example of using the bottom 2/3 of the the image and leaving room at the top of the photo as interesting blank space. And notice he isn't split exactly down the middle of the photograph...so even a slight adjustment can make a big difference. I also recommend you google "Rule of Thirds" and there are a ton of other great examples...these are just ones I happened to have taken over the past year or so. You can also get some great examples of using the Rule of Thirds when photographing landscapes and other scenic vacation photos. Now you can start to play around with your composition and keeping your subject out of the middle of the photo. Keep in mind that this...like most other photography rules...can be broken, but it is better to understand the rule enough to know when you can break it.