For businesses looking to maximize their design budget and the interior designers who help them get there, ordering custom commercial wallpaper murals to display artwork and branding just became a little easier. Many established printing companies are adding wallpaper murals, murals printed on vinyl or canvas with an adhesive backing, to their product lines. Businesses and interior designers can take advantage of this trend to display artwork and marketing messages with a look that's more upscale than posters and more cost-effective than other traditional promotional display options. Painted murals have been a tradition in Europe for many years since they are inherently eye-catching and easily incorporated into almost any architectural space, while preserving or integrating potentially historic building designs. Because businesses in the U.S. tend to lease their commercial spaces and because trends in the U.S. evolve more quickly, painted murals have not been as popular here. The growing popularity of wallpaper murals, which present a way for interior designers to capture the classic look of a painted mural without permanent changes to a space, is about to change that for all businesses, from retail stores to offices to hospitals. Commercial wallpaper murals are almost infinitely customizable. As opposed to painted wall murals where the designs available are limited to a paint color selection and the artist's capabilities, wallpaper murals use high quality inks that can match any color scheme, and the different materials available can also be incorporated into existing material palettes. Many retail stores are using custom wallpaper to print logos and pop out signs, but wall murals can also be used for pictorial representations that fit with a space's overall design, from paintings and photographs to abstracts. Because they are removable, many shops are using wall murals rather than permanent wallpaper to display motif prints as focal points or secondary patterns – and they can be placed nearly anywhere.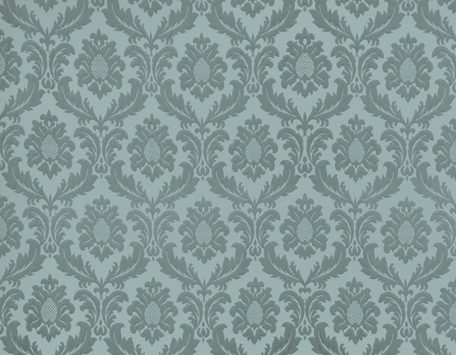 Placement flexibility is another significant benefit of wallpaper murals. Wallpaper murals can be ordered in poster sizes up to commercial wall wraps and every size in between, and can be oriented vertically or horizontally. Like traditional wallpaper, it can be sized to fit walls that are linear or curved and cut around doorways. This is useful in any openly viewed space with door frames present, from dressing rooms to hallways. Custom wallpaper can even be used to wrap columns, an application many designers have used to great effect. Custom wallpaper can also be framed to draw attention to a promotion or to the space where it's located.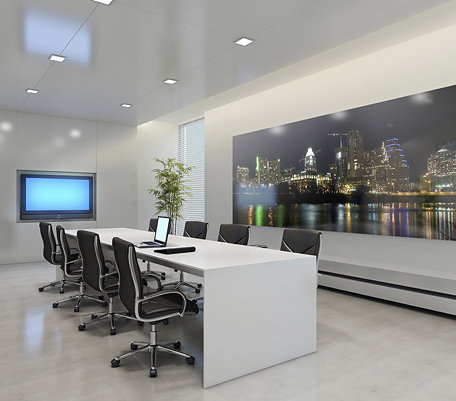 Since most custom commercial wallpaper murals have removable adhesive backing for re-positioning and removal, custom wall murals can be removed without damage to walls or the mural itself. Commercial spaces that frequently rotate promotional messages can easily move them to other spaces as branding priorities change. For this reason, many retail stores are using wall murals for seasonal and holiday promotions. Once a timed promotion ends, the murals can easily be swapped out and out-of-season messages can be stored.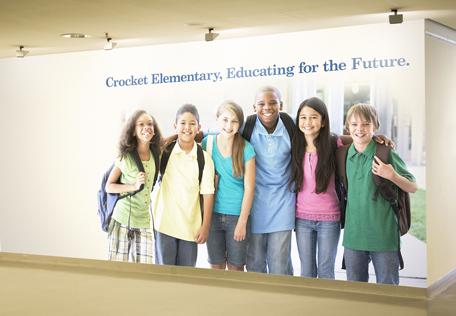 Whether as a permanent design piece or a seasonal promotional message wallpaper murals can create powerful impressions in any commercial space. Wall murals are the rare solution that manages to be customizable, flexible, and reusable while preserving the design budget.