Do you remember the agony of having to look up words and write definitions as part of your homework while growing up? Ugh...I hated it. Every week we had to write out the word the syllable break up and the pronunciation for 10 new vocabulary words. It was so painful back then. I'm not sure what has happened over the past 30 years, but I now think that the dictionary is one of the coolest things ever. I love looking up words to see their origin and their intended meaning. Not that I like to flash around a big vocabulary (or 50 cent words as my teacher used to call them), but I do know some pretty big words (patting myself on the back). So here is a creative decoration idea using canvas prints and dictionary definitions. These canvas creations can be hung in a family room, kitchen, playrooms, or a child's room. It all depends on the word you are defining. I have some examples of possible words below. Here is what you need to make this creation a reality: A word (obviously) A dictionary. Or you can use the online Merriam-Webster dictionary (
www.merriam-webster.com/dictionary/
) to get the syllable and pronunciation text. A favorite font. I highly suggest heading over to
dafont.com
to see if you can find a font you like. I take no responsibility for you becoming addicted to their free fonts. An idea of what size you would like your canvas print to be. A design software like Photoshop or Photoshop Elements
OR
you can contact
Canvas Press
and we can help with your design. Don't feel like you have to write the exact definition down. If you feel like a quote, or a bible verse, or something personal fits with your meaning of a word then by all means put it in there. There are no rules to this. You can see in my example of the definition of love I included a portion of 1 Corinthians 13. What I like about this project is that it can be a sort of mission statement for a family or an individual. It can also be very humorous as well. Here are a few examples of the process. Getting the type formatted and sized correctly for the canvas print. At this point the only design is the type...which is cool, but you can always spice it up a little with color or even photos behind the text.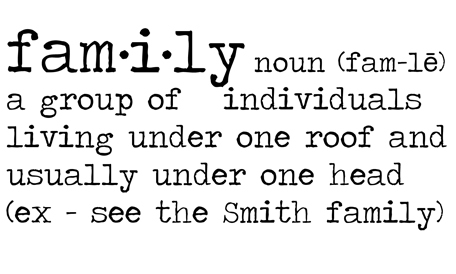 I went with color on this example. Play around with the design...everyone's tastes are different.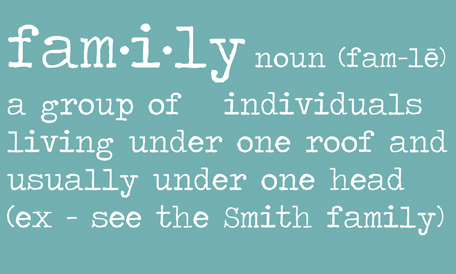 And here is my example of my definition of love that I mentioned.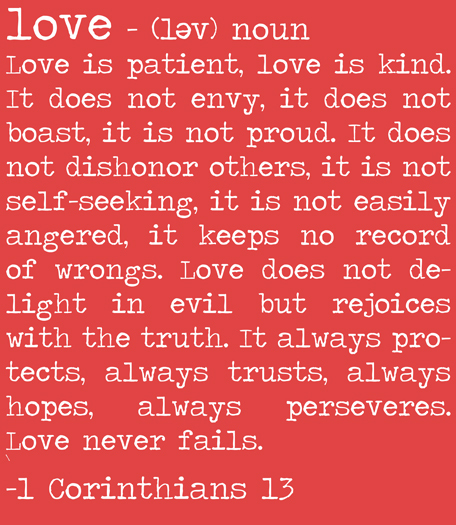 Here are a few words that can inspire some great definitions on canvas prints.
fam·i·ly
noun
(fam-lē) - a group of individuals living under one roof and usually under one head (example - see the Smith family)
tribe
- (trīb)
noun
- I think this one would be perfect for a self definition of your tribe (group of friends, family etc.)
sprout
- (sprau̇t)
verb -
to grow, spring up, or come forth as or as if a sprout
love
- (ləv)
noun
- Love is patient, love is kind. It does not envy, it does not boast, it is not proud.It does not dishonor others, it is not self-seeking, it is not easily angered, it keeps no record of wrongs. Love does not delight in evil but rejoices with the truth. It always protects, always trusts, always hopes, always perseveres.Love never fails
to·geth·er
(tə-ˈge-
th
ər)
adverb -
in or into association or relationship <we go well
together
>
cre·a·tive
(krē-ˈā-tiv)
adjective
- marked by the ability or power to create
:
given to creating <the
creative
impulse> And some fun ones for the upcoming holidays:
haunt
spook
ghoul
ghost
give
thanksgiving
thanks
jolly
noel
frosty
carol
jin·gle
(jiŋ-gəl)
verb
1: to make a light clinking or tinkling sound
2: to rhyme or sound in a catchy repetitious manner