I'm a recovering professional photographer. This means I no longer let people pay me for photography services, and I have the luxury of saying "No" when someone asks me to shoot a wedding or do something similar as a "favor." I'm also learning to simplify when it comes to equipment. Gone are the back-breaking days of lugging several bodies, multiple lenses, accessories and tripods – I'm done with all that. I've got a variety of small, quick and easy cameras that still give me the control I crave as a former Pro, but make my life much easier. My current favorite device for taking pictures however, is not a "real camera" it's my iPhone 5. Yes, I'm 100% on the
iPhoneography
bandwagon. I now bring a point-and-shoot Panasonic with me on trips as my backup camera. Since I'm using the phone usually as a GPS, research tool, music player AND camera I'm finding the battery dies. Quickly and often. So, a backup is good to have. There are, of course, limitations to the iPhone's camera. I love the built in panorama and HDR functions and I use them all the time, the zoom is okay, but that's basically all you get out of it as is. I've now decided to take it a step further and get some lens attachments for different effects. These lenses are so tiny I can keep them in my pocket, it's wonderful!
What I'm using is the magnetic lens set of a Wide Angle/ Macro, Fisheye and 2x Telephoto lens set, as well as the 12x Telephoto lens (with tripod!). I keep them all in the nifty iPhone Lens Wallet from Photojojo.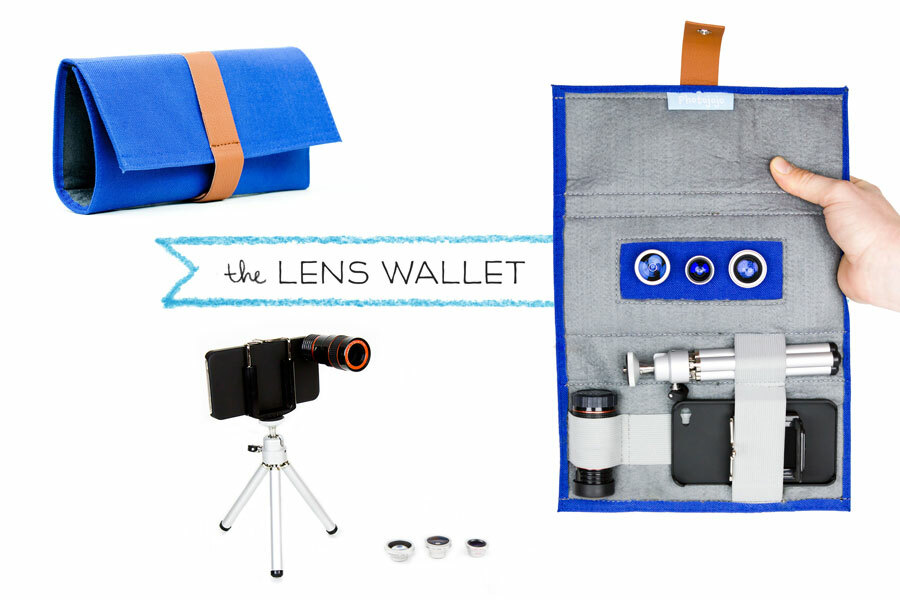 http://photojojo.com/store/awesomeness/iphone-lens-wallet/
I first got to try them all out last Labor Day weekend on my trip to Seattle. When setting them up at home before the trip, I realized my cell phone case was going to be a problem. The lenses (except the 12x tele) are magnetic and come with an adhesive metal ring you put on the phone around the camera. I searched high and low for a case that was wide enough in that area so I wouldn't have to pull it off each time I wanted to snap a lens on. I ended up with a simple, low profile "bumper" and while it's not the most secure (otterbox fans will cringe at it) but it has saved me from a drop here and there. Basically, it's better than nothing. Now I'd only have to remove the case when I wanted to use the 12x monster lens, and that one requires a tripod for use so you've got to allow yourself "setup" time anyway.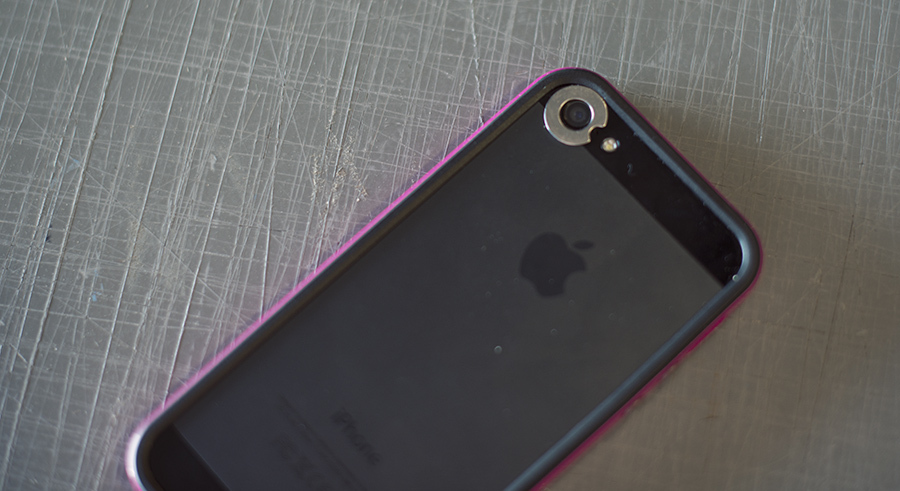 http://www.amazon.com/gp/product/B00AG1A8FK/ref=oh_details_o07_s00_i00?ie=UTF8&psc=1
The magnetic lenses have tiny "straps" with magnetic rings that hold onto them and protect them. When switching between them in a short time frame I'd keep them dangling from my fingers, otherwise they lived in my pocket for easy access. The wide angle/ macro and fisheye lenses actually show you a black circle around the image, and it can be a little off center, depending on how well you lined up the adhesive ring and how you've got the lens positioned on that. The 2x telephoto lens has a very shallow depth of field, so you see a lot of fall off in the focus. For most of my images I felt that created an interesting effect and I used it to emphasize the center focus. Overall, this little set is really fun to use. I got some really great effects taken with them.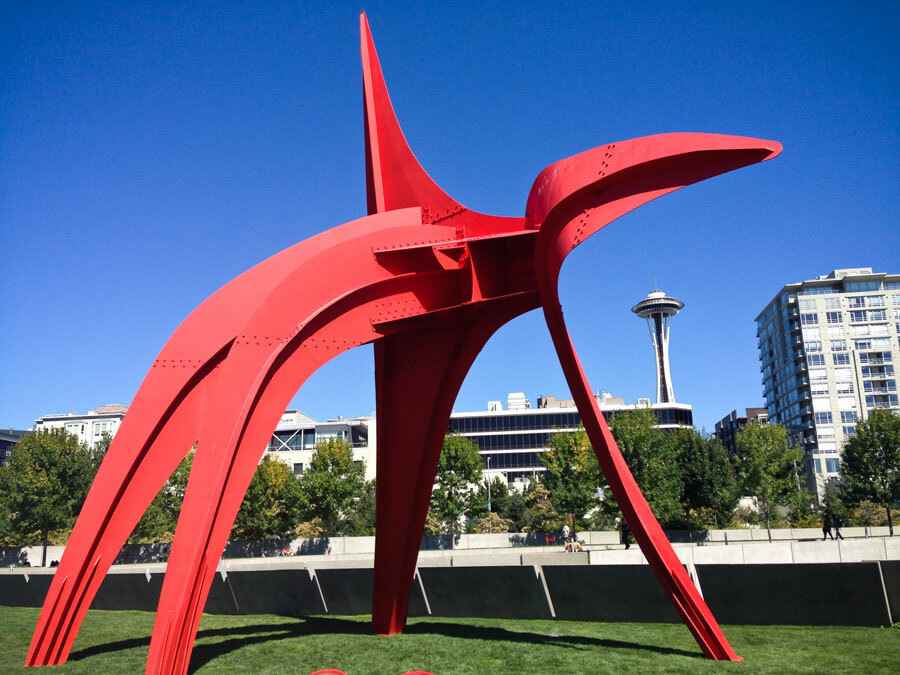 Here is a normal shot of an art piece from the Olympic Sculpture Park, no lens or effects added.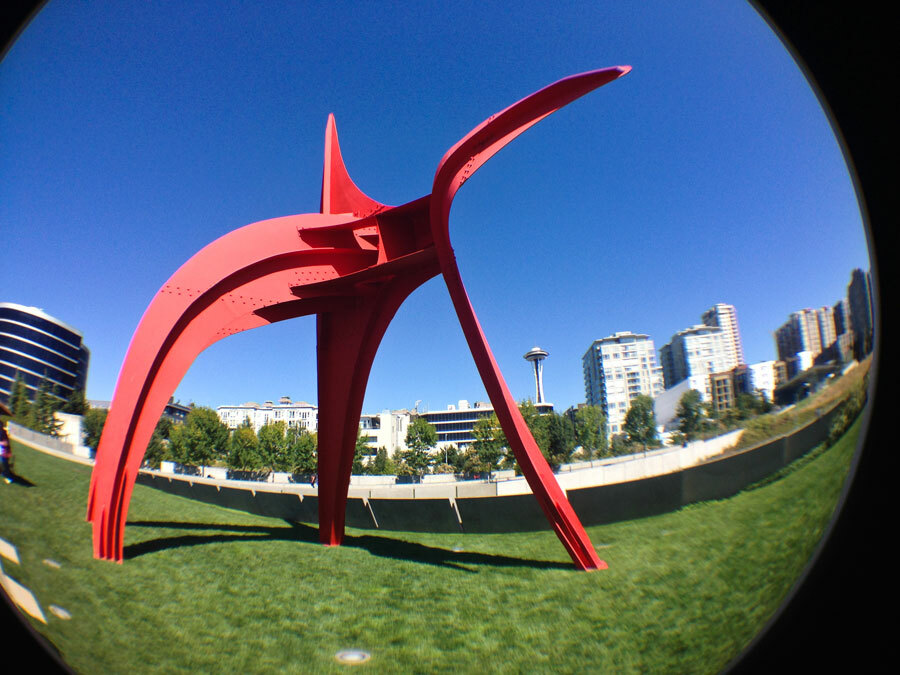 And here is the same view, taken from the same spot with the fisheye lens.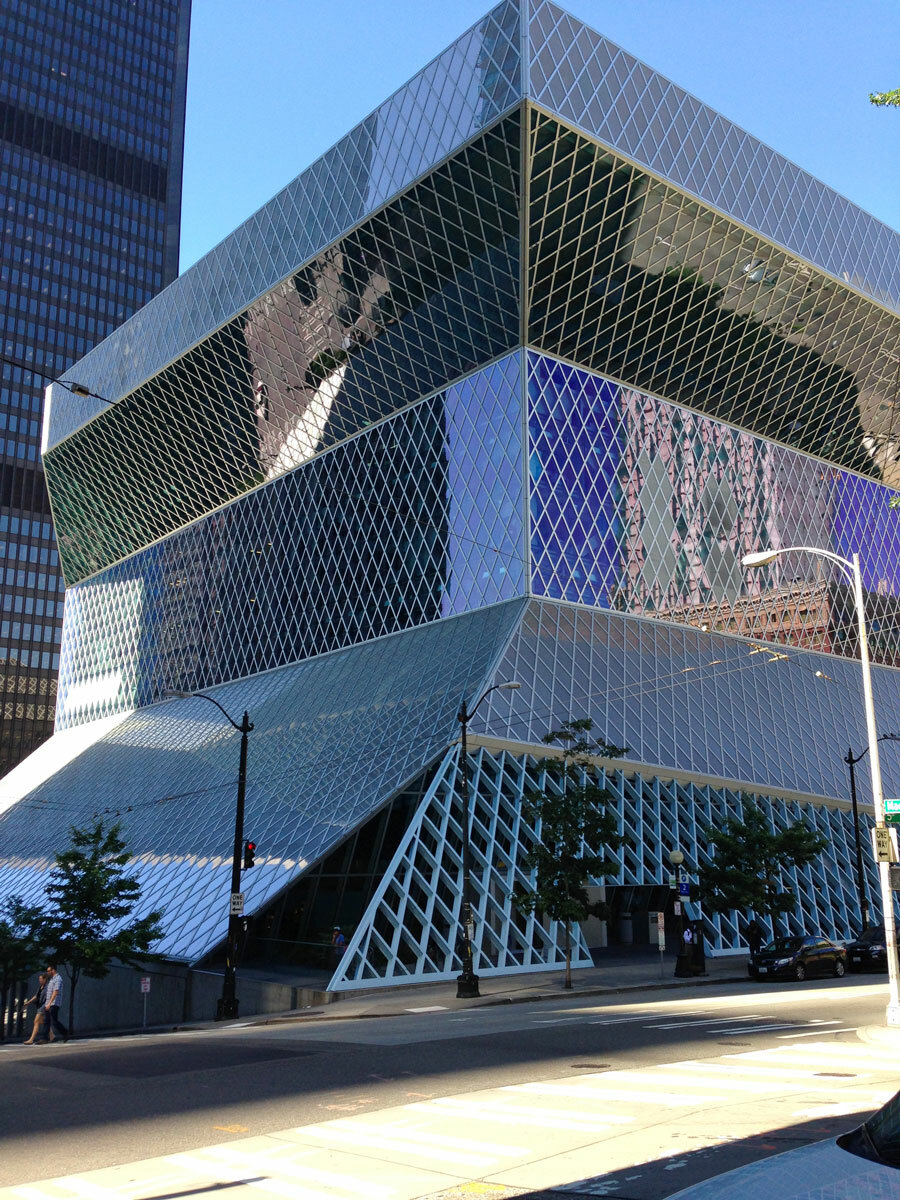 This is a plain, straight-on view of the Seattle Public Library.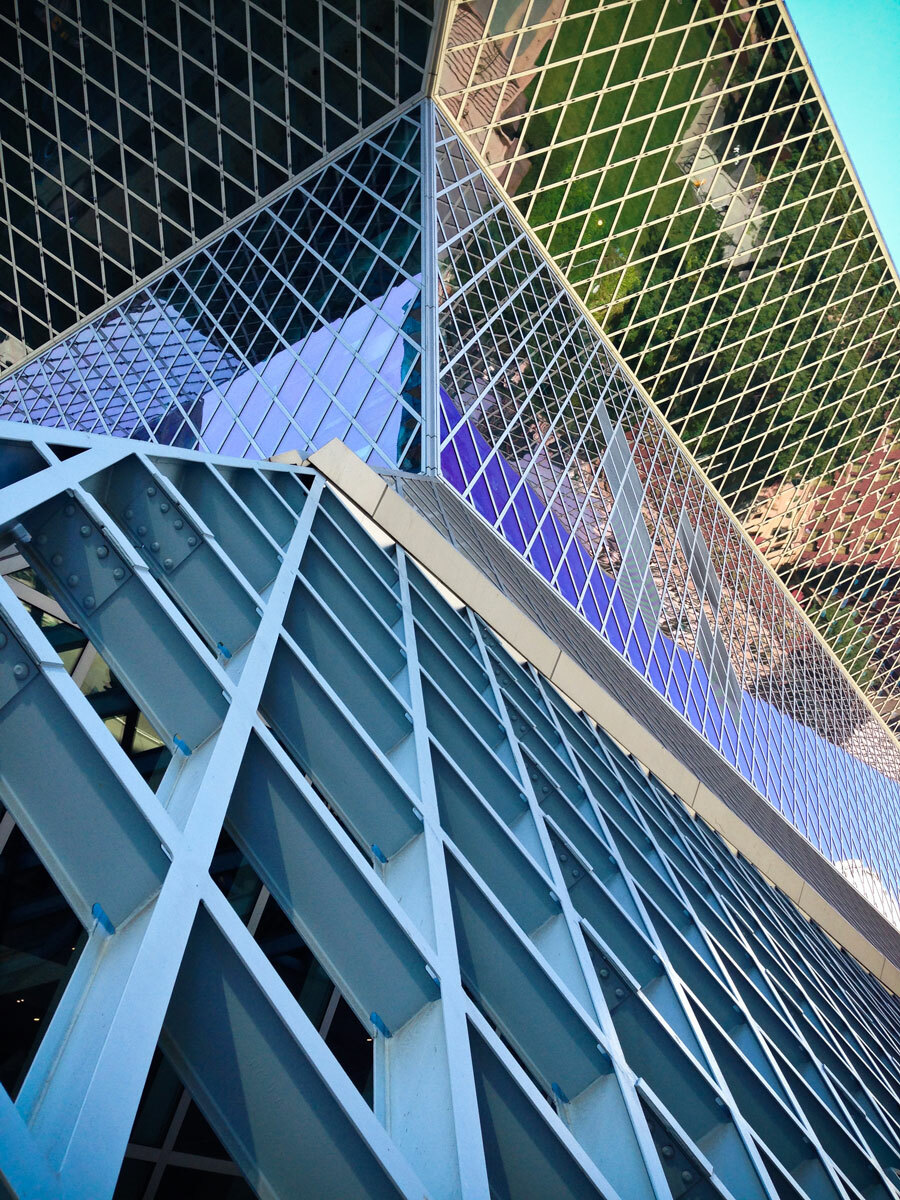 Here is still the phone as-is with no effect or lens, but at least a more interesting angle.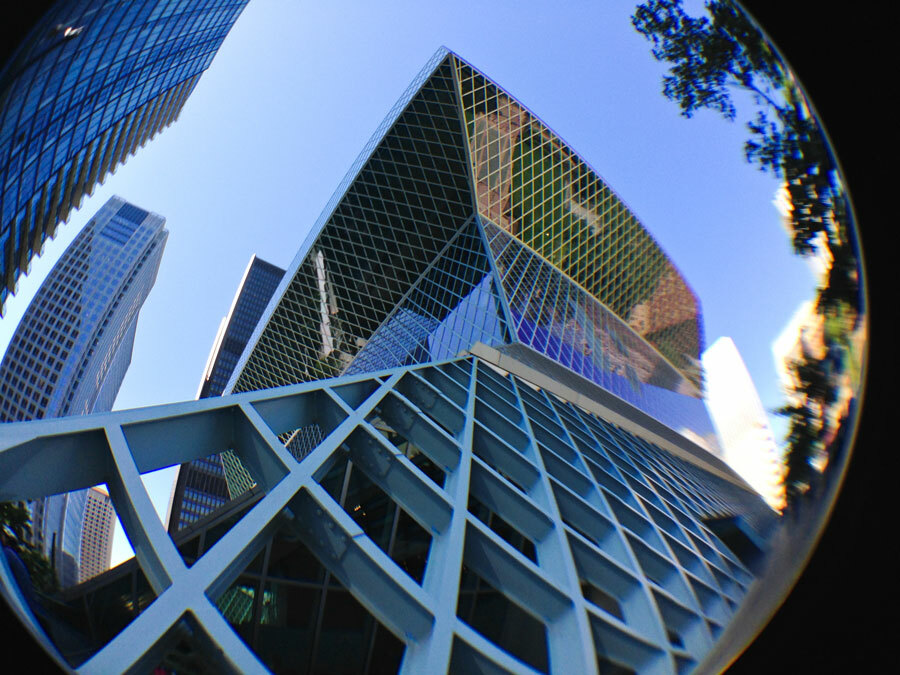 Taken from the same spot as the last shot with the fisheye lens. It really brings in perspective and in my opinion shows of the funky architecture.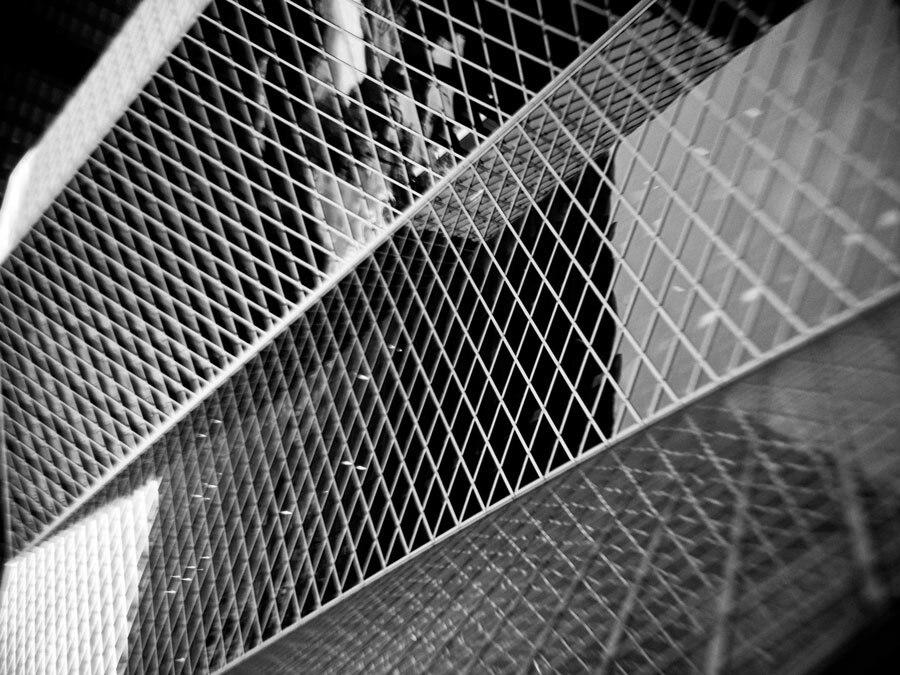 Using the 2x telephoto lens here shows a great abstract art piece of the architecture.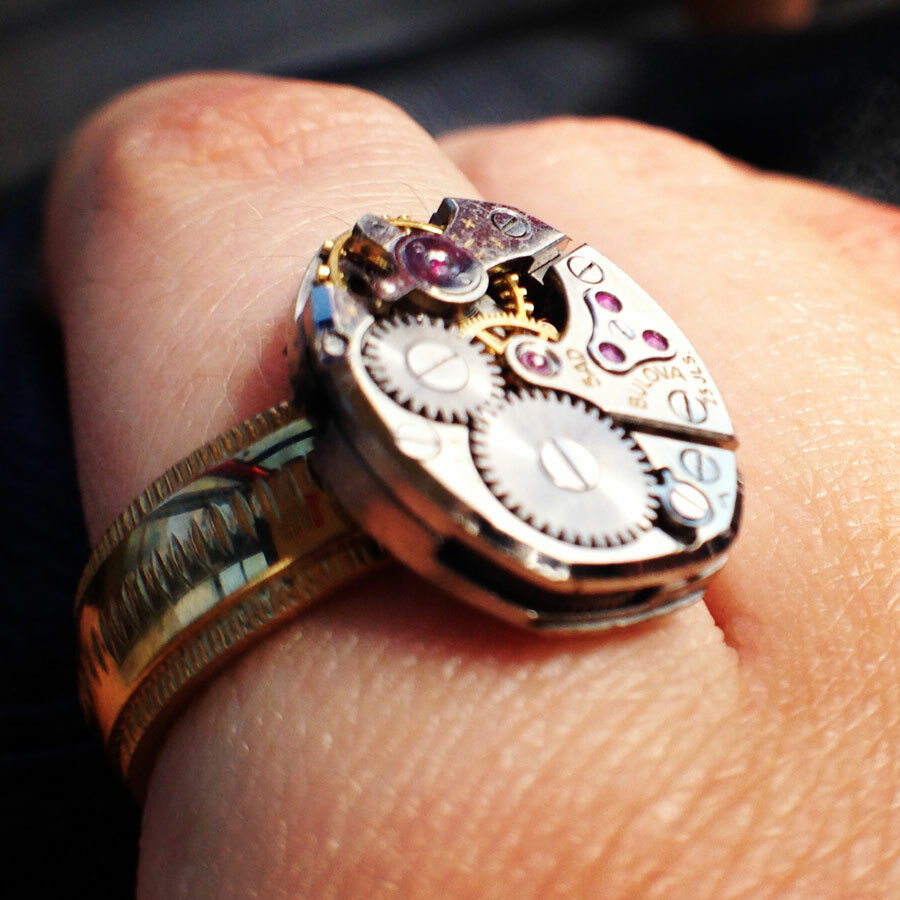 Fun with the macro lens showing off a funky antique watch ring I bought on the trip. The focus was a bit difficult on this one, but that's probably because I was in a moving vehicle at the time….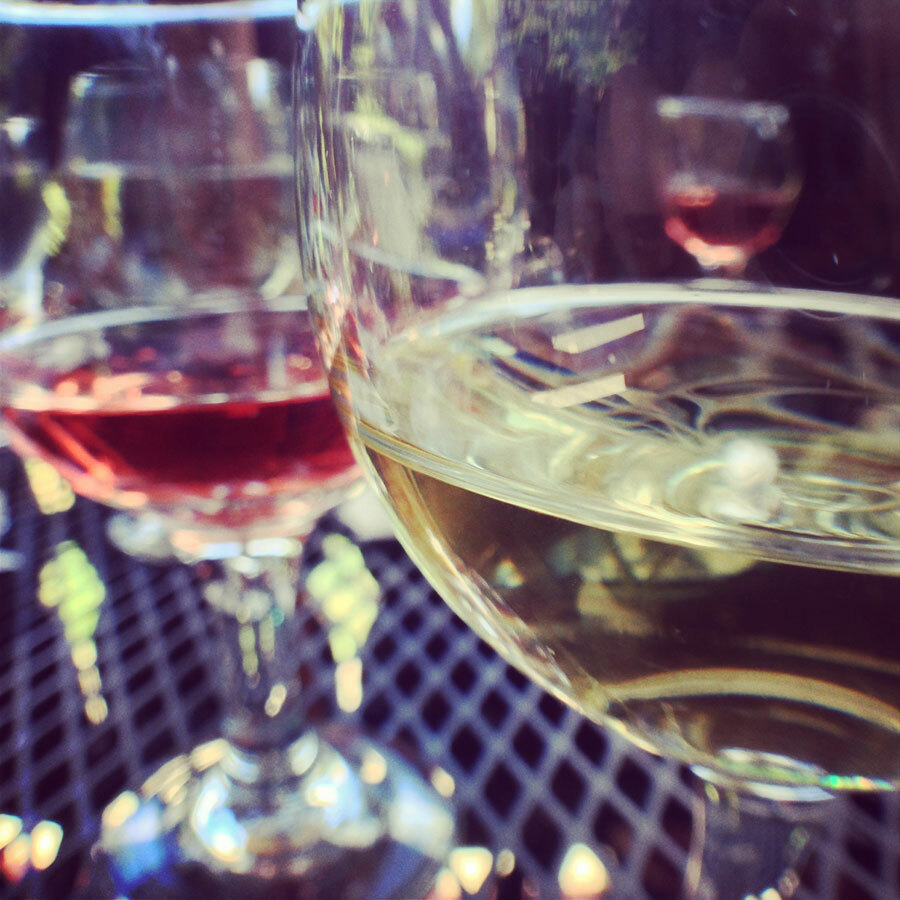 Better focus this time, capturing the colors and shapes of a local wine tasting. (Both of these macro images were edited with Instagram, the square format cropped out the circular edges.)
*SIDE NOTE: I discovered when writing this article that what I was referring to as simply the "Macro" lens is actually a two-in-one: the wide angle screws off the macro part. Hah! I still had the wide angle attachment on when the shots above were taken. Shooting with the macro alone there are no circular edges and black background. Here is a shot of some flowers on my desk that is a true macro photo: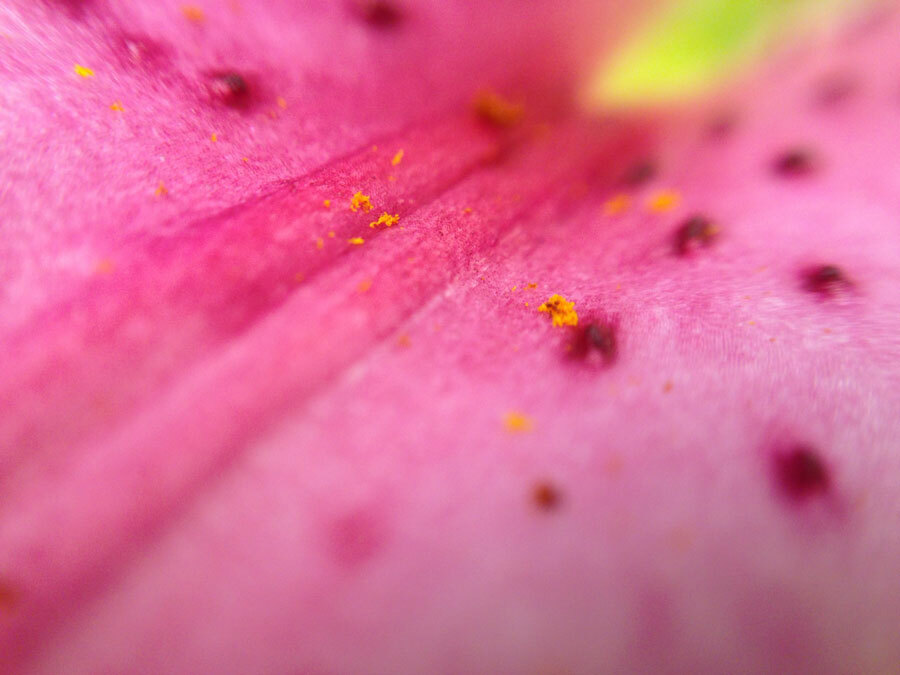 We ventured out of the city to tour the volcanic mountains and this gave me the chance to try out the telephoto lens some more, as well as get the tripod setup for the big daddy, the 12x tele.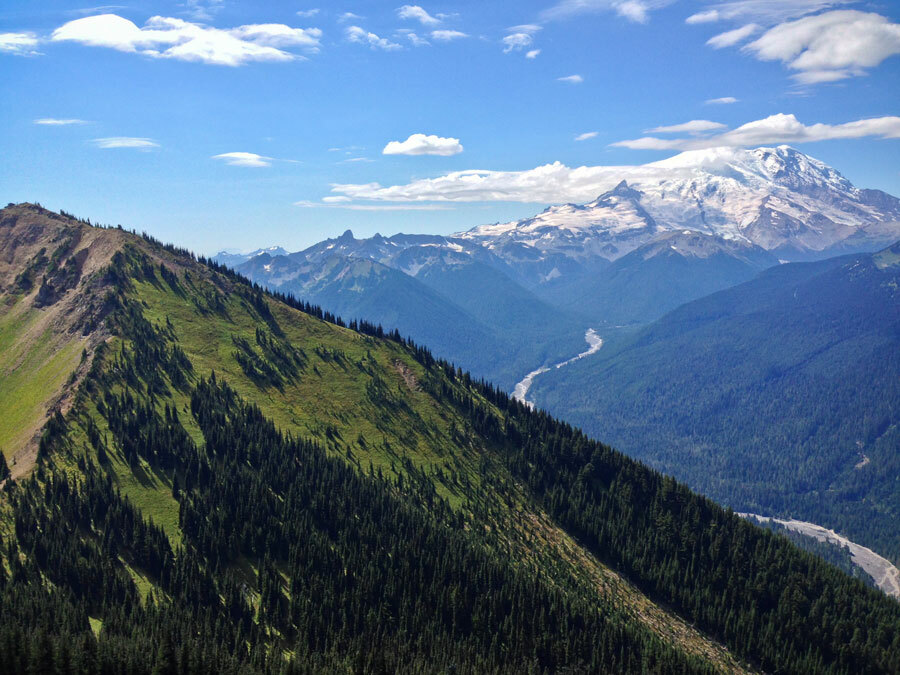 Mount Ranier, no effect no lens.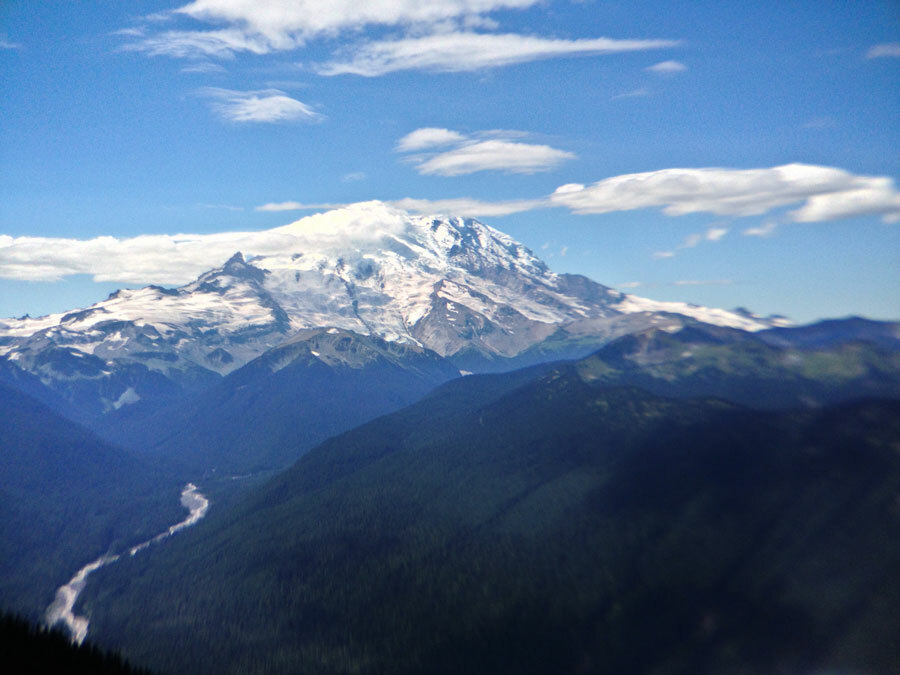 Same spot, Mount Ranier, 2x Telephoto.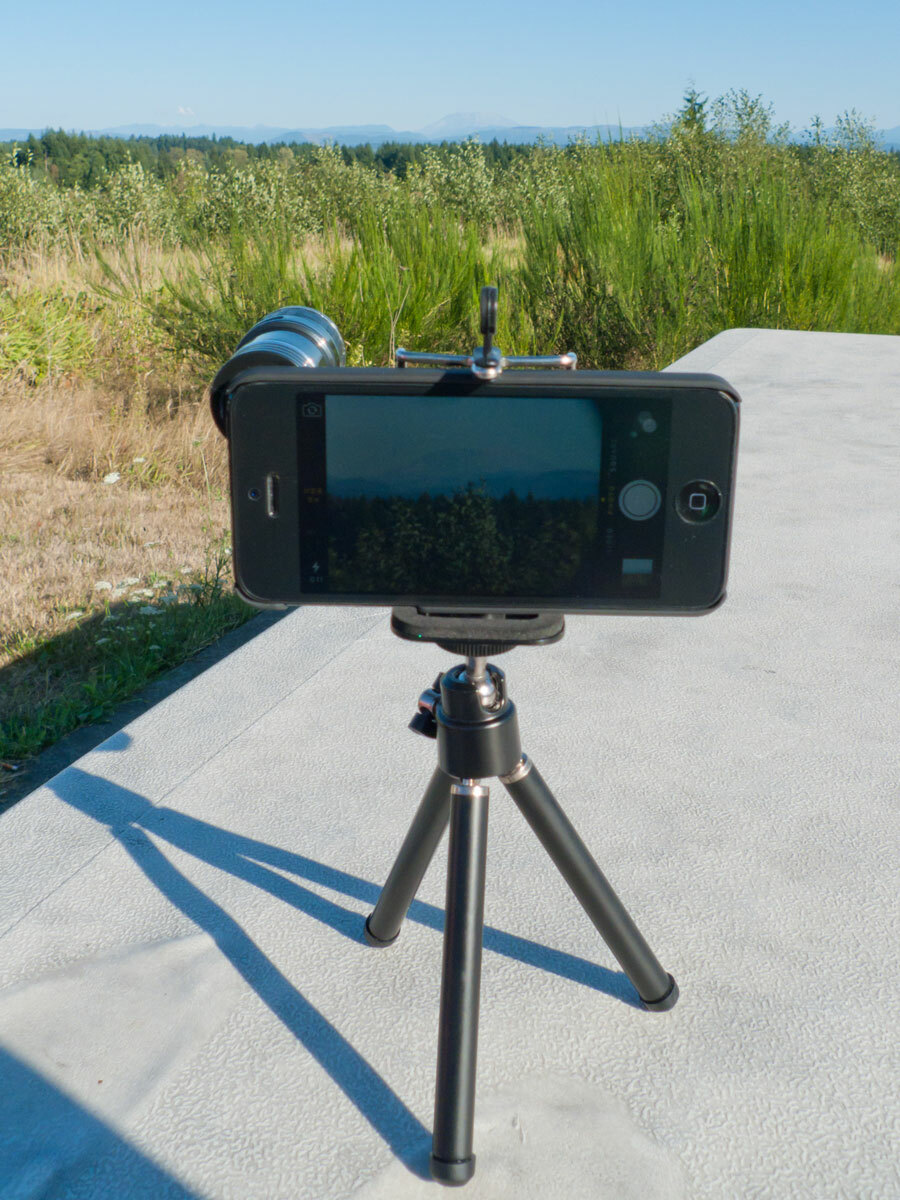 Outside a gas station we discovered a view of Mount Saint Helens in the distance, and a handy picnic table for me to setup my geeky iPhone tripod.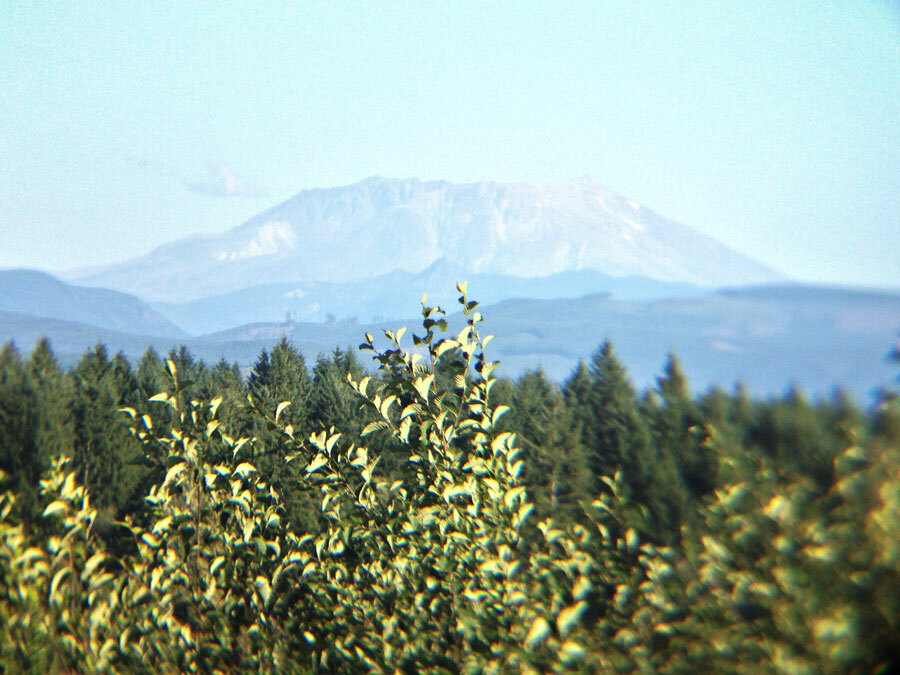 The result.
Just a few more shots to share from the trip… These were taken at a lighthouse on the coast at the Oregon border.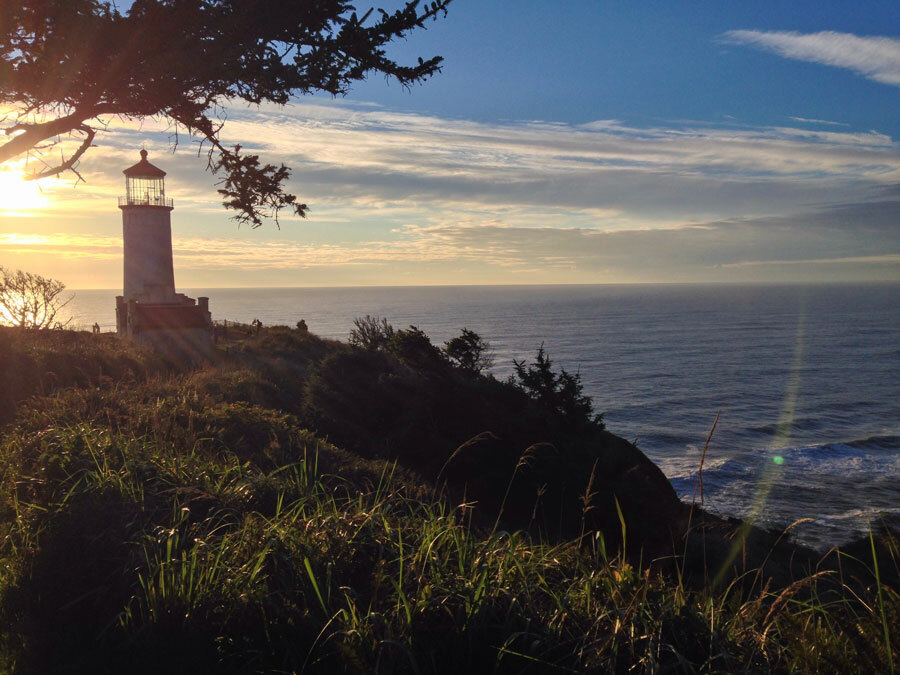 This HDR image is pretty much straight out of the phone. I did lighten it slightly for better viewing on this blog, but I'm very pleased with the image as-is, showing detail in the shadows and not blowing out the sun.

The sun is blown out in this one, that's pretty unavoidable when exposing for a panorama, but it's still a gorgeous scene. It's great to be able to capture the sweeping coastline with this built in function. I love having fun with these lenses and being able to toss them in my pocket or purse anytime I'm out. Since I always have my phone on me I always have a camera and it's clear that it can get the job done. The lenses satisfy my thirst for creativity when shooting with just my iPhone, and now if I can just get the battery to last longer, this is all I need! I do also carry around a small portable power bank and cable, so that has helped on occasion. It's just more "stuff" to carry and sometimes get in the way, but at least it's small and light.
http://www.amazon.com/gp/product/B00FU0ZCRQ/ref=oh_details_o03_s00_i01?ie=UTF8&psc=1
Here are a few more product shots of the case and the lenses.