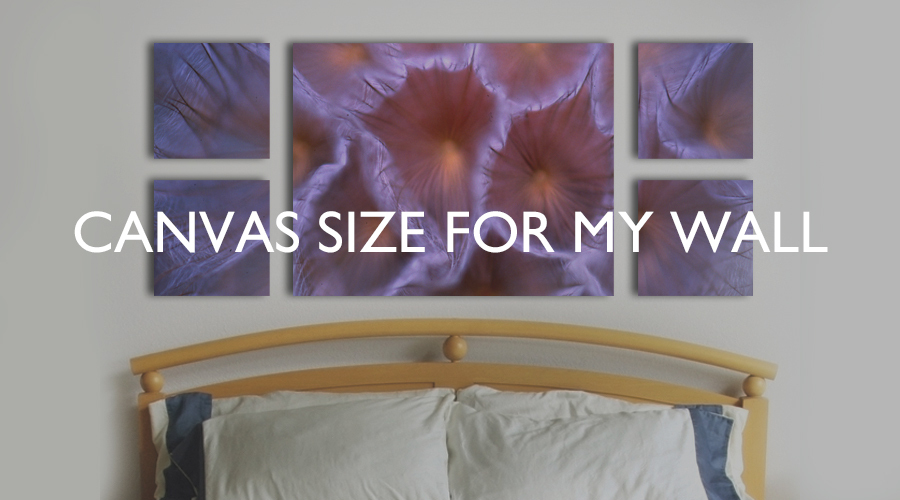 You have the photo and you have the wall, but you have no idea how large your custom photo canvas should be...sound familiar. Choosing the right size for your custom photo canvas can be a challenge if you don't do a lot of photo enlargements. It can be tough to gauge how large or how small a custom photo canvas should be so it doesn't overpower or get swallowed up by the particular wall you are hanging it on. You want to maintain a certain balance of white or negative space with the canvas print. There are a several ways to figure this out, but nothing helps more than a physical representation (in my opinion). But I am a visual guy and I really have to see something to fully make sense of it. While other people can just read something and can envision it or understand it. So I'll tell you what, I will give you both ways to get a good idea on how large (or small...depending on how you want to think of it) your next custom photo canvas should be. First we need to look at the wall space where the photo will be hanging. Is it above the mantle, over a bed, above the sofa, or is it on a wall with other photos or pieces of artwork? Here are some simple guidelines to follow for choosing the size for your print. For anything above a mantle - The artwork* should cover at least half the width of the mantle space. For anything over a bed - The artwork* should cover about two-thirds of the width of the bed. Anything narrower than that has the potential of losing visual impact on the wall and get just get swallowed up with excess white space. For anything over a sofa - Same rule applies as in over a bed. Two-thirds or more of the width, but I wouldn't go larger than the width of the couch. (* - Artwork can be one single custom photo canvas or photo print or it can be several prints together) For the visual folks out there (like me) here is a good trick to figure out the general size that is appropriate for your wall. Use the Sunday newspaper. Take a full spread and tape it up in the area where the final print would hang. It it is too big fold it in half and re-tape it. Using the newspaper in place of the artwork will help you rough out the size you will need for your wall. Now you can get that photo ready to printed as your very own custom photo canvas.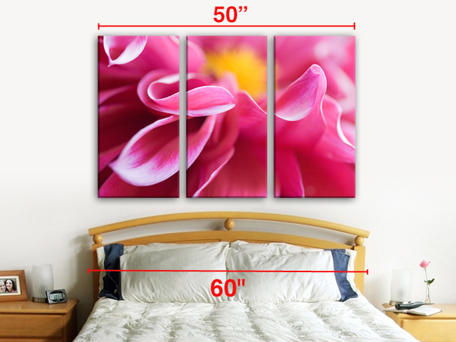 This series of photos make a great visual impact because it is close to the full width of the headboard.
This small photo gets dwarfed by the size of the bed and loses impact. This canvas size guide article is written for Canvas Press. To find out more about Canvas Press' products visit
www.canvaspress.com
.