There is something incredibly special about designing your own piece to integrate into the home or office décor. A lot of creativity fuels the decisions regarding style, size, and material options that will make up your chosen piece of art. These decisions are a large part of what makes the process so special, because they influence the final product in a way that represents your unique artistry.
One element that sometimes provides a stumbling block for customers is the choice of material on which to print the image. There are two great materials to consider: canvas and metal.
Both offer unique advantages, and it is important to decide which style you prefer before ordering your print. To help you with the decision making process, this guide compares canvas and metal side-by-side so that you can make the best decision for your project.
Material
Both options are made from excellent source materials to provide a pristine presentation that will look fantastic.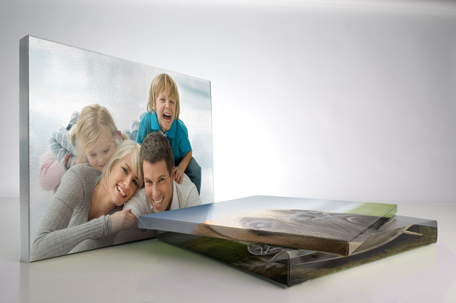 Canvas prints are made with a cotton-poly base, and they are backed on stretcher frames that consist of 100% poplar finger-jointed wood.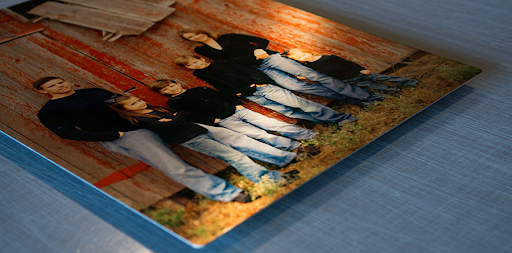 Metal prints, on the other hand, are made with a thick section of aluminum sheet. While these two source materials are quite different, they both result in a gorgeous print. Often, this choice is left up to your own personal preference.
Surface Types
Both canvas and metal present multiple surface appearance types to select from. For canvas, there are four types.

Standard canvas offers a satin finish with a 395 GSM cotton-poly blend, museum matte offers a non-glare finish with a 414 GSM cotton-poly blend, a museum glossy offers a 414 GSM cotton-poly blend with a superior sheen and a Urth OBA free surface. If you decide to go with a metal photo print, you will have two options.
Clear gloss delivers a high-gloss sheen, while white gloss delivers a white base and gloss finish for enhanced color presentation. The options all carry unique qualities, but you simply can't go wrong no matter which surface material type you choose!
Depth
The depth of the piece refers to its thickness and this is a characteristic that offers a pretty significant difference between the two materials.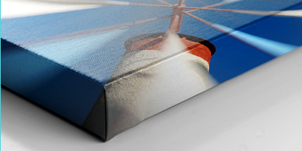 First off, stretched canvas prints are available in three different depths. The thinnest option is 0.75" thick and can be placed directly on the wall or within a frame, if you prefer. The next two options up include a 1.5" thickness and a 2" thickness, both of which are bold enough to be displayed without a frame.
There is also the non-stretched canvas print option, which does not have a wooden frame and can be hung like a traditional canvas that has been rolled out.

Metal prints are all featured with the same depth, with a 0.45" thickness. While metal prints are available in one depth, canvas provides a variety of thicknesses, if that's what you prefer. As both presentation styles look great, this is another difference that is mostly left to personal preference.
Mounting Options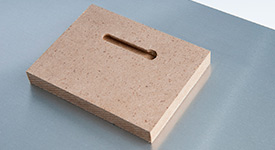 Another point of difference between canvas and metal is the selection of mounting options. If you're settling on canvas, you'll have the ability to choose from saw tooth hangers, wire hangers and security hangers, depending on the amount of stability required in the display setting. All three of these allow for a secure way to hang the canvas print.
Remember, you can always choose to display your canvas in an alternative display, such as on a shelf. With metal prints, there are two great mounting options: an easel back stand or a wood block. The wood block option allows you to hang the metal print on a wall with a nail or screw.
Artistic Aesthetic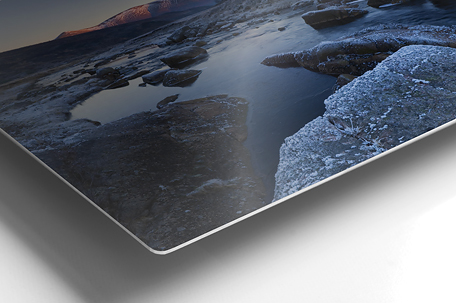 Finally, there is one more difference to be considered when debating between canvas and metal: artistic aesthetic. While canvas prints tend to achieve a trendy décor aesthetic, metal prints often carry a vintage or retro vibe. The artistic aesthetic may be the most important element in deciding which material to use, because it can influence the style achieved with the piece of artwork.
There are lots of factors to consider when choosing between canvas and metal for your next print. No matter which creative factors you settle on, you can rest assured that the final product will be an impressive piece that you can be proud to display!