Variety is supposed to be the spice of life, right? Well, sometimes variety (especially when the variety is all amazing) can be a little overwhelming. You are left not knowing what to choose. You want to make sure you photo is printed on the right product...so here I am to help you out. Be forewarned...even I go back and forth in my mind on what I should print some of my photos or artwork on. I think I have come up with some general tips and guidelines to apply to your decision making the next time you are torn between printing to canvas, metal or paper. I will first take a look at different personal styles (ie, traditional, modern, contemporary etc) and see which of our products works best for each of the common decorating styles out there. Then I will break down some of the common types of photography styles out there and give you some recommendations based on the specific product and it's qualities / characteristics.
Decorating Styles
Traditional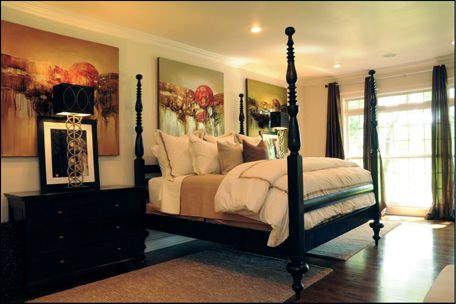 Found on Houzz.com from I.O. Metro. Great example of a traditional decorating style with large canvas prints on the wall. If your decorating sense leans toward Traditional there are a few options for you. According to
HGTV
a Traditional style is "Use of classic styling and symmetry to create a calm, orderly decor. Color palette is usually in the mid-tones and fabrics are muted, usually simple florals, solids, stripes or plaids." Based on that definition and if this sounds like you then here is what I would suggest. You could print a .75" photo on canvas that you can then put into a frame. Remember, don't put glass in front of the canvas print. It doesn't need it. The other option I would suggest is a paper print. Our Fine Art paper is the specific paper I would choose. It is a 100% cotton rag paper that resembles watercolor paper. Once you have the print you can then take it to the frame store to have it matted and framed or just put in a frame by itself.
Contemporary
A contemporary decorating style has clean lines often with solid colors. Usually the main color palette is neutral with bold punches of accent colors. Graphic elements in artwork and other accents are other signs that you prefer a contemporary style. If this sounds like you then here are a few recommendations. Our 1.5" canvas prints are right up your alley. They are modern enough to stand on their own, and when a bold graphic element or unique piece of photography is printed on to the canvas it really stands out. You could also put a float frame around it. This is another way to keep the clean lines in your decor and still enjoy the statement of a photo canvas. I would also recommend our metal prints. Their sleek clean lines and amazing finish make any photo or piece of artwork pop. Our metal prints are perfect for saturated colors and black and white photos.
Transitional
If you like a little bit of traditional and a little of contemporary then this is the style for you. Think of this way, if you love the stuff at
Pottery Barn
or
Crate and Barrel
then this is your style. My recommendation for this style would be either our .75" or 1.5" canvas prints. If you like frames then choose the .75" canvas so you can place it into a frame. I would also suggest our Fine Art paper prints. Having these prints framed in a simple brown or black frame hung in a collage is a perfect fit for this style.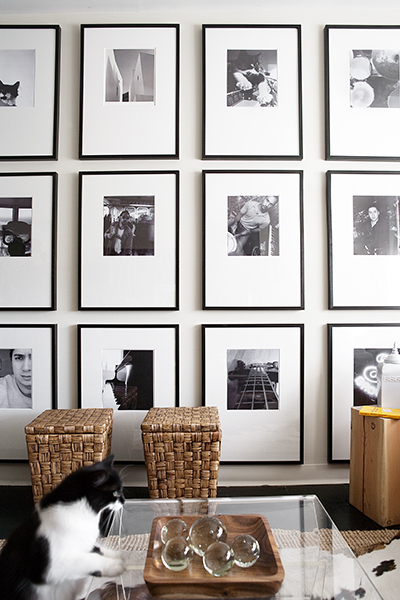 Photo via Samantha Pynn Inc. A beautiful example of a wall collage from framed photo prints. Added interest from the way the photos are matted.
Modern
A modern style sensibility is often marked by simple clean lined furnishings and polished surfaces. If you love a modern look then go for our 2" deep canvas prints. The extra depth gives the added focus you will want for your piece of art or photograph. Our metallic photo paper and metal prints are also perfect for the modern look. They both have a high gloss and the colors jump off the page like a 3 year old on a sugar high.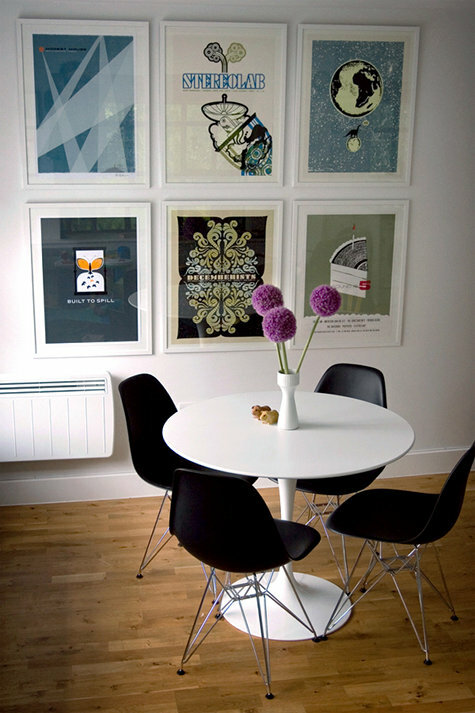 Rion Nakaya is a photographer from the UK. This is peek into her home from the blog: designsponge.com I know there are so many other decorating styles out there and I will tackle more in a future post. We didn't cover Country, Coastal, Art Deco, Craftsman, Eclectic, or Shabby Chic. All of these decorating styles have a place and need artwork...and we thing we are just the place that has a little something for everyone. If you have a project coming up that you need art or photography for and are unsure on what to choose. Give us a call at 888.784.5553 or head over the
Canvas Press
website to get your order started.