Have you ever gone through an old box of your parents or even grandparents photos. All of the history in that box of photos. I can hear my mom now as she is describing who is who in the photos, "Now that is your great aunt and that is your grandfather and I'm not sure who that person is". And the largest photo we have of our grandparents are a few 5x7's from their wedding day. Even nowadays, with all of the technology we have at our fingertips, we rarely print any photos. We just store everything on our phone or computer...it just sits there...waiting to tell a story and be passed on to another generation.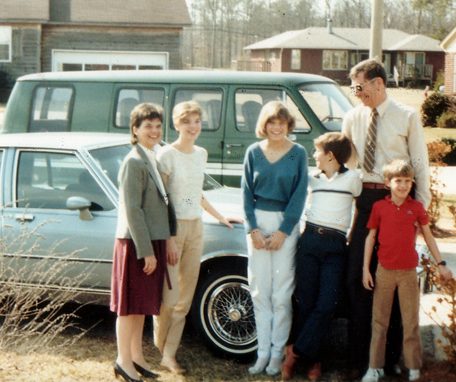 This is a photo of my family taken in 1982 with our brand new car. We were trying to hid the decals to make it look like a Cadillac. I'm the third from the right. Maybe it is the older we get the more nostalgic we feel. I feel more connected to my family history and I think that it is so important to maintain that family history in a visual way so that family history is preserved. Future generations will look at the photo prints or photos on canvas and they can see who they resemble, put a face to the stories they have heard of their hilarious uncle, laugh at people's hairstyle and how they are dressed. These are all things that help weave a family history and keep people connected. You know the other fantastic thing about printing family photos on canvas? It is tangible. It's something you can feel and touch and hold. It isn't virtual, it doesn't exist only on a computer or phone screen. A canvas print or even a photo print (no matter how small) is something that will last and will tell a story long after we are gone. I apologize for getting all sentimental on you. I hope I wasn't laying it on too thick. And even I am guilty of hanging on to photos on my phone or computer. Telling myself, "You really need to get these printed". But I am a photographer by nature and so I have hundreds...if not a thousand or so photos that I would love to print. Just so I have them. I am sure that there are several that would be perfect canvas prints, but it is also ok just to choose one. One photo to remember a person or the family all together. I am sure that it will provide stories to tell for years to come.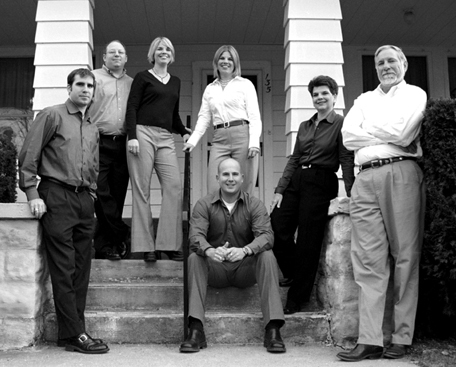 This is the family around 2000. Taken on my grandmother's porch. Before my parents were...grandparents. The nice thing about ordering a
photo on canva
s from us is that our inks are rated to last over 90 years and we stretch every canvas on a solid poplar wood. So, you can be sure that your grandkids will enjoy what you made today. As always, we are here to help you in any way that we can. Give us a call at 888.784.5553 or email us at support@canvaspress.com with any questions.
https://www.canvaspress.com