Customer Spotlight:
Realty Austin
Realty Austin is a real estate company that was founded in 2004 with one goal in mind: To provide their customers with outstanding service by hiring the best agents in the business and offering the most comprehensive and easy-to-use Austin home search technology available. Hmmm...outstanding service, easy to use, latest technology...sounds very familiar. I guess like minded companies tend to gravitate toward each other. What comes to mind when you think of office space? No, I'm not talking about the movie. I am talking about where you work. Well, if you are like the majority of America you are familiar with the doldrums of... CUBICLE WORLD. Where boring gray cubicles stretch for as far as the eye can see. Well,
Realty Austin
has the perfect solution for curing the permanent "case of the Mondays". They decorated their office with large scale canvas prints (framed in our one of a kind
float frames
), and used our up and coming wallpaper product to create a one of a kind
wallpaper mural
of the downtown Austin skyline. Now instead of looking at drab gray cubicles and empty walls...there is amazing and fun artwork all around the office. The effect really gives life to the office environment and also gives it a ton of personality. The photo canvas prints were designed by Michael Schembri Designs in Austin, TX (If you want to get in touch with Michael contact him at MichaelSchembridesign@gmail.com). Michael did a fantastic job of combining Austin landmarks, the love of live music, the energy of the city, and even the Realty Austin Bowling Team in his graphic artwork. It was our honor to turn Michael's pieces of art into custom canvas prints for
Realty Austin
. Do you have a work space that is feeling a little lifeless? Trying to decorating the whole thing it can feel like a daunting task, but of course we are here to help. You could hire an interior designer or hiring a graphic designer is another way to go. Or you could source the artwork from your employees. Maybe have a little contest to see who comes up with the best artwork...everyone votes...the winners get a little reward (that would be for you to decide). You can always contact us for ideas and even resources. Whatever you decide to do just give us a shout when you are ready and we can help you transform your office space with a photo canvas or two (or 10) and even a wallpaper mural. It will definitely make work a much more enjoyable place to come every day. Here is a look at what Realty Austin did. I think you will agree that the artwork is full of energy and not too serious...there is a huge canvas of their bowling team...in the office. That is fun!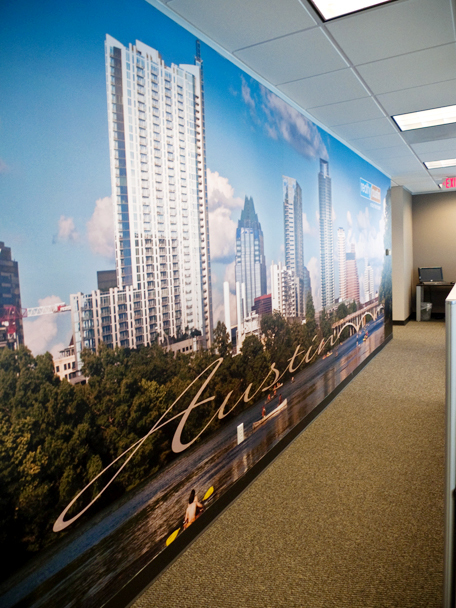 The wallpaper mural stretches down entire wall and makes quite a statement. It shows off the Austin skyline and Lady Bird Lake. It's almost like you are working outside (except your not). Get in touch with us if you have any questions about how to create your own custom wallpaper mural.