Whenever someone talks about the ideal vacation, it generally involves a lot of time spent on the beach. Let's face it: There's simply nothing like walking across the sandy seaside, enjoying the feel of the gentle waves lapping against your ankles. Over the years, families may grow apart but they never forget the time they spent together building sandcastles, soaking up the warmth of the sun, and collecting sea shells. If you're looking for a unique way to commemorate your special time at the beach, you might consider putting your beach pictures on canvas. This article will explain why tropical prints on canvas are so important, how you can design them, and how you can use them to remember your time on the beach.
What are Canvas Beach Prints?
When someone goes on a vacation to the beach, they generally take a lot of photos. While many of these photos are perfect to add to a photo album or simply store until years later, there is the occasional picture that is simply too good not to showcase. Instead of buying a regular picture frame, some people decide to remember their special time by adding the image to a canvas. Canvas beach prints make it possible to take your most important pictures and add them to a canvas that you can proudly display within your home.
Why Should I Choose to Put My Tropical Prints on Canvas?
Putting your beach pictures on canvas provides you with an opportunity to showcase your photos in a more professional way. Tropical prints on canvas draw attention to your beach photos, giving viewers the opportunity to appreciate them. Whether it is images of your family playing in the sand, a group photo on the beach, or simply a breathtaking view of the sun-setting over the water, designing a canvas prints beach scene gives you the chance to share some of your favorite vacation memories in your home.
How Do I Put My Beach Pictures on Canvas?
At Canvas Press, we make it simple to design canvas beach pictures! In fact, the whole process only takes a few minutes.
Step One:
Choose Your Canvas Thickness. Your will need to choose between .75", 1.5", and 2" canvas thickness. The thickness determines how far your canvas beach pictures will stick out from the wall after hanging them. Some people choose the thickest option because it gives the canvas the most noticeable appearance, while others go for a more shallow selection.
Step Two:
Upload Your Photo. Choose the right beach photo you want added to your tropical canvas prints, and then upload it to the program. For the best results, choose a photo that is good quality and in focus.
Step Three:
Adjust Your Image. Once your photo has been uploaded, you will be able to set up the sizing and make sure that it fits correctly on the canvas. You also have the option to zoom in and add a border. If you want to add text to your canvas, that is also possible – giving you the chance to include the date, the place where the photo was taken, and the names of anyone included in the image. Before choosing the size of your canvas beach pictures, measure the area where you intend to hang it to ensure you won't get a canvas that is too big for your space!
Step Four:
Place Your Order and Wait for Your Canvas! The last step is to put in your address and pay for your purchase. You should receive your canvas in as few as two to three days. Once your canvas beach prints have arrived, you can start decorating your home and commemorating your time at the ocean!
How Do I Decorate with Canvas Beach Pictures?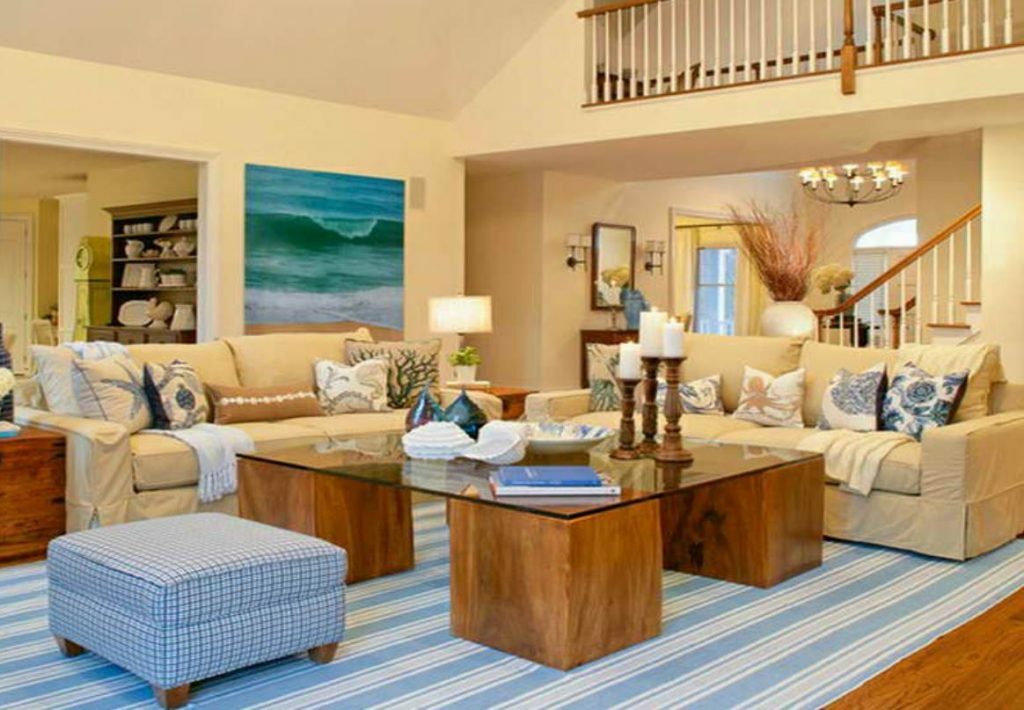 (Photo Credit: http://www.http://cqwb.info)
If you don't have a knack for decorating, the idea of showcasing your tropical canvas prints may seem intimidating. Thankfully, pictures that have been put on canvas are perfect for any location. Whether you want to include your canvas beach pictures in a snug family room above the fireplace, or would rather showcase a scene of the ocean in a more elite area, these images are a great addition to any room.
Should I Consider a Canvas Beach Picture as a Gift?
Sometimes buying a gift can be challenging – rather than struggling to pick out something from the local mall, consider designing and ordering canvas beach prints instead. Family members and friends will love to see their special time at the beach remembered on a piece of canvas that they can display at their home!
Time at the beach goes by much too quickly. Rather than allowing your summer vacation to be forgotten, remember it in stunning detail with tropical canvas prints. By adding your special photos to canvas, you can enjoy thoughts about your time at the beach and share the precious memories with your family and friends.