Even though canvas prints look beautiful hung simply on any wall, this type of art is surprisingly versatile and allows for endless creativity when it comes to display. To really give your home a styled, finished feel, here are seven different ways to display canvas art so you get the most from your prints.
1. Place Canvas Prints on Floating Shelves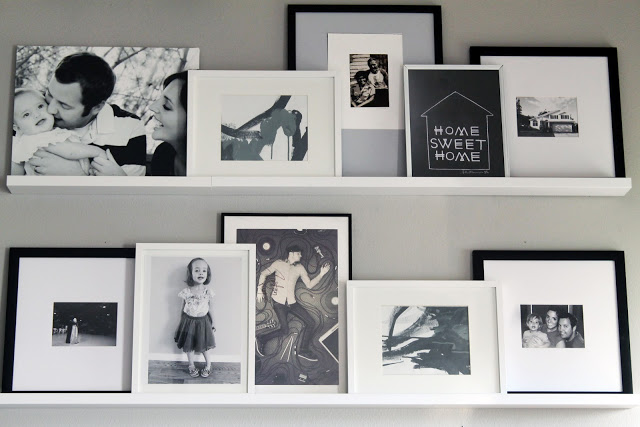 Floating shelves are easy to install, incredibly affordable, and can often be placed on walls of rented homes where other types of shelving may be forbidden. Floating shelves are great for storing small items, but even better is to use them as a place to showcase canvas prints. Perching your canvas print on a shelf, along with a couple of small complementing decor items, really creates a beautiful look with minimal effort. You can also easily swap out prints seasonally without having to remove and rehang the canvas.
2. Create a Faux Photo Booth Design
Photo booths are always a fun way of getting a series of snapshots with your loved ones. You can replicate the typical four photos photo booth effect with a matching selection of canvas prints. Since you can have personal images printed on canvas, all you need to do is take a quick sequence of photos. You can have all four pasted together in a photoshop program and then printed on one long canvas. This is a great way of catching facial expressions of children.
3. Show Off a Print in a Unique Frame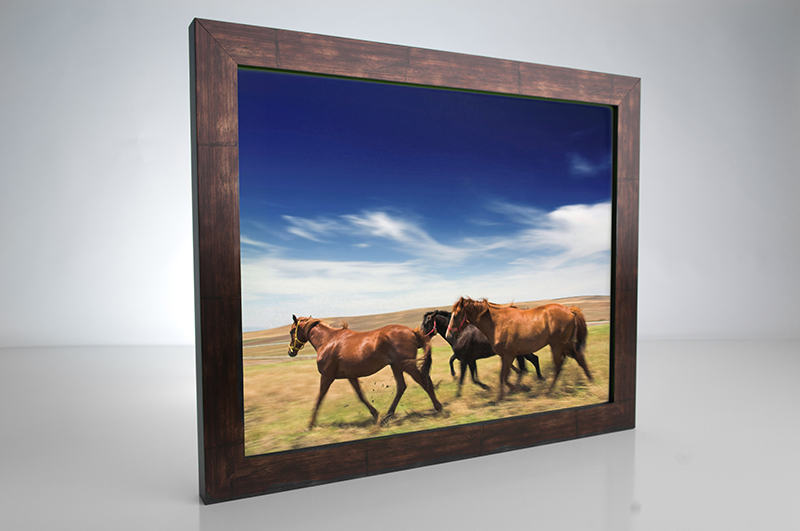 If you have one medium to large size statement print that seems to get lost on your wall, consider putting a frame around it. Many opt for canvas prints because they don't have a frame, but if you want more structure you can easily add a modern or shabby-chic frame around the print. Leave off the glass and you'll still have the appeal of canvas, just with the addition of a unique frame effect. You could also purchase a large vintage frame from the local thrift store and create a collage of small canvas prints within it.
4. Hang Square Prints in a Grid Collage
Small square canvas prints may seem diminutive, but their quaint size makes them perfect for creating grid collages. Unlike the idea of a gallery of numerous sizes canvases, a grid collage consists of small prints placed in a pattern with equal spacing between them. You can do this in any geometric pattern fairly easily. This is an excellent way to arrange canvas prints on the wall. You can use it to hang personal photo prints of family, friends, pets, and other casual pictures. You can also hang these small canvases without any space between to create a huge mural.
5. Combine Different Types of Wall Art in a Gallery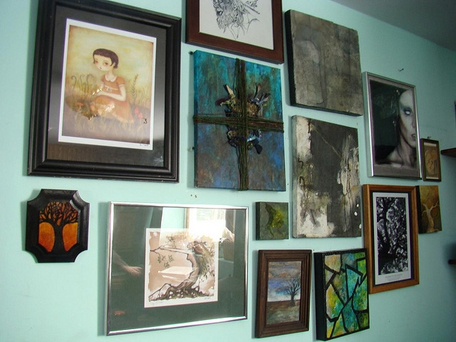 If you are wondering how to arrange canvas prints on the wall with paintings and other art, consider a gallery design. Plain walls are instantly made beautiful when a gallery design is used. This is fairly easy to accomplish and is a great alternative to painting a statement accent wall. Canvas prints are neutral enough that they look beautiful combined with different types of wall art. Rather than creating a gallery of just one type of art, consider mixing canvas prints, traditional framed photos, mirrors, and other pieces that are various sizes. The mixed media effect looks very high-end and also adds texture to an otherwise minimalistic room.
6. Capture a Life Event with Small Prints
Major life events can be put on display in a tidy, cozy manner by opting for a few small canvas prints all hung together. This includes weddings, honeymoons, first days of school for kids, holiday events, and birthdays. Rather than having these all printed on one large canvas, consider smaller prints. A series of three photos hung vertically with a bold ribbon behind the canvas ties these together in a lovely way.
7. Add Inspiration with Quotes, Poems, and Lyrics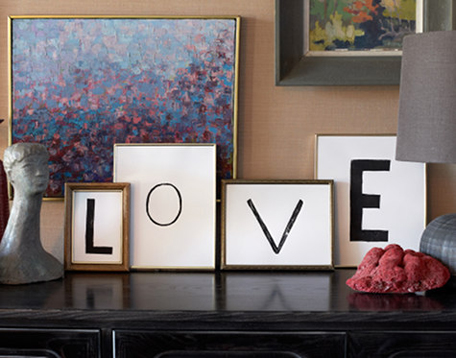 Canvas prints aren't just for paintings, drawings, and photographs. Having quotes, short poems, and even your favorite lyrics can all be printed in stunning fonts on canvas. This adds intrigue to a wall that otherwise only has photograph prints and a touch of personality. You can also have holiday-themed quotes printed on canvases, hanging them up during the season and stored for the rest of the year. We hope you liked these creative ways to display canvas art. Consider trying out some of these ideas in your own home decor. You just might find that it gives a fresh new look to your walls and brings new life to your favorite canvas prints.