Christmas portraits are a tradition for many families, but even if your family hasn't done Christmas portraits before, it isn't too late to start a new, fun tradition for the holidays. These 5 unique family Christmas portrait and photoshoot ideas will create photos for your walls to go with those pictures of your children on Santa's lap and provide lasting memories for the entire family.
Christmas Portrait Idea #1: Step Away from the Tree
Although it is traditional to take Christmas portraits in front of the Christmas tree or a mantle hung with stockings, you can make your holiday digital photography pop by taking your portrait photography to a new but equally traditional setting, like the family table. Use your holiday linens and tableware as eye catching props, and pose your family enjoying the holidays ahead of time with one or two simple dishes.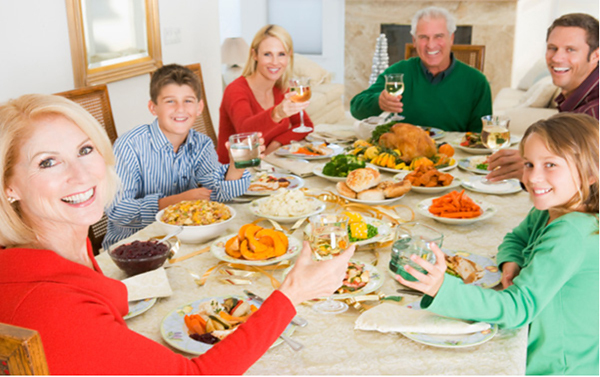 Taking a picture of your family as they sit down to eat a holiday meal makes for a great Christmas portrait, and you can "include" the recipient by raising a toast to the camera! Photo courtesy http://www.SheKnows.com
Christmas Portrait Idea #2: Pose Children Playing at Grown-Up Tasks
There are many tasks that are "adults only" during the holidays – carving the main course at family gatherings, stringing Christmas lights, and bringing home the Christmas tree. You wouldn't want to put a child in charge of doing these things, but photographing your children playing at doing these tasks with age-appropriate look-alikes can make for adorable and memorable Christmas portraits!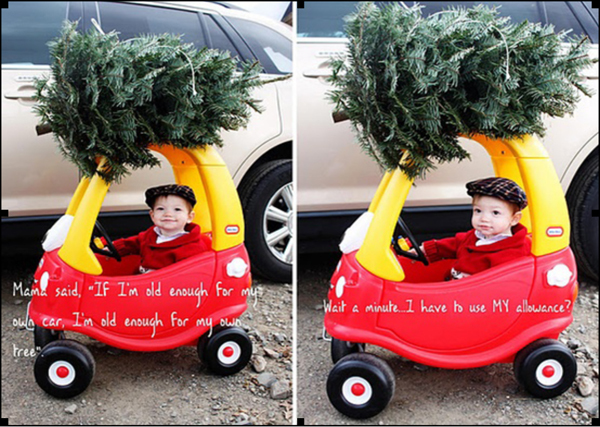 Photo courtesy via http://www.alittleglassbox.com
Christmas Portrait Idea #3: Take Your Photo Shoot Outdoors
Depending on where you are, as the holidays set in so might the cold and snow. Despite the cold, though, there are great Christmas portrait opportunities outdoors. The trick to a happy family and a touching outdoor Christmas portrait is to plan ahead and spend as little time outside taking the portrait as possible, before little feet and the photographer's hands get too cold! Set up appropriate and weather durable props such as lights and chairs about an hour beforehand, which gives you time to warm up before heading back out for the photo. Here are a few family Christmas portrait and photoshoot ideas you can use:
Have the family alternate sitting or standing on chairs strung with Christmas lights.
Pretend to be chopping down your own Christmas tree.
Use a time delay or a helper to take pictures from outside in through a window as the family gathers around the table or tree. This type of shot works best at night.
Christmas Portrait Idea #4: Pajama Time
Tell the truth. Would you rather get all dressed up in a dress or guys, a suit and tie or lounge around in your pajamas? I thought so. So why not start a new tradition. Every year get some new Christmas PJ's for the family and show them off by taking some fun/silly portraits in them. I will go even further out on the limb and do portraits on Christmas morning with everyone in their new pajamas. Some of my fondest memories of growing up are of Christmas morning and being with my family. Now I know we don't all look our best on Christmas morning. Puffy eyes, hair all over the place, pillow lines still on your face...embrace it...who cares? When you look at these photos 5-10 years from now you will get a huge smile on your face and maybe a few tears as well from these memories you have captured.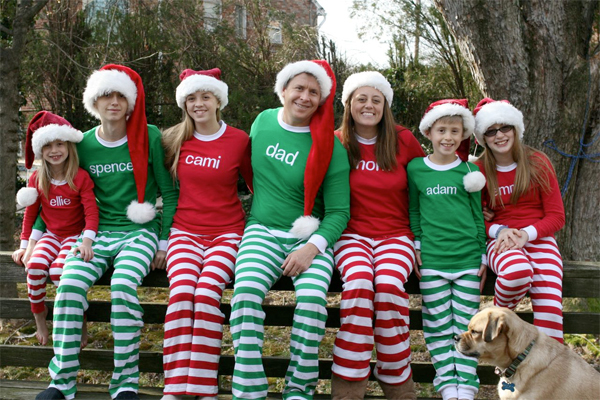 photo courtesy http://recipeshoebox.blogspot.com
Christmas Portrait Idea #5: Take a Kid's Eye View Portrait
As a rule of thumb, children and pets are more expressive and better represented in portraits taken at their eye level, but unless adults are lying down, adults are left out of a shot taken at that level, right? Well, with a little creativity, you can make little ones the focus of your Christmas portrait while still including Mom and Dad. Have everyone sit on the rug with the children comfortably held in laps, or have everyone sit in matching chairs of the same height. For an alternative twist, you can also photograph everyone's legs and feet in Christmas themed stockings or slippers; this makes for cute and unique portraits.