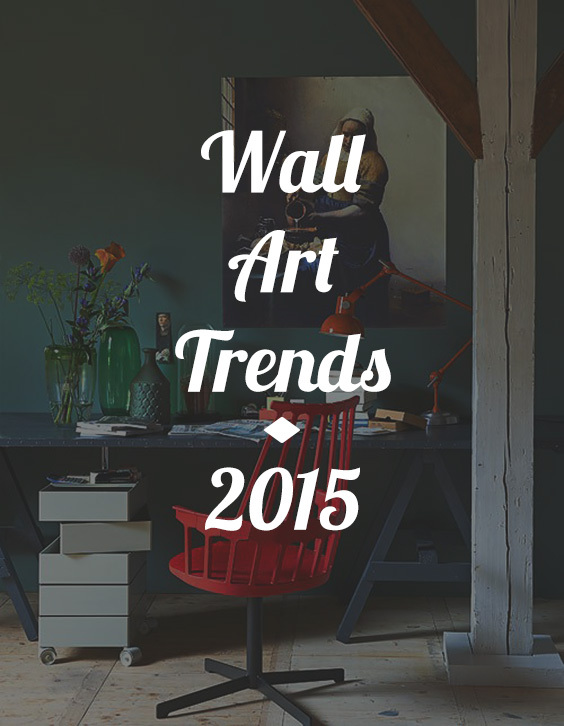 With your spring cleaning this year you might also be considering a bit of spring redecorating. You can find thousands of ideas online incorporating the new 2015 wall art trends, many of which incorporate your favorite canvas prints. To get you started, here are a few of our favorite trendy wall art ideas.
DIY Design
There are many tried and true design principles like color blocking and eye-height alignment that you can use for your wall art, but DIY design experiments can successfully break through these "rules" for stunning arrangements. A few principles you can
let go
to free your DIY design instinct include:
Not mixing old and new (see more on this below).
Not mixing different tones and families of finishes and patterns. Not only are gold and brass together a design trend this year, but the match-match design guideline of yore is also being left behind for other elements.
Build around neutrals. If you love a bold color use it as your foundation without fear.
Natural Elements
Natural and organic elements are a style you don't want to miss. Trending essentials in this group include wood frames, resins, natural materials like cotton and hemp, and dried ferns. Eggs...yes...eggs are another natural element poised at the top of the list and new for 2015. Whether papier-mâché or blown, glass or Faberge, you can incorporate these as surprise elements or larger centerpieces throughout 2015.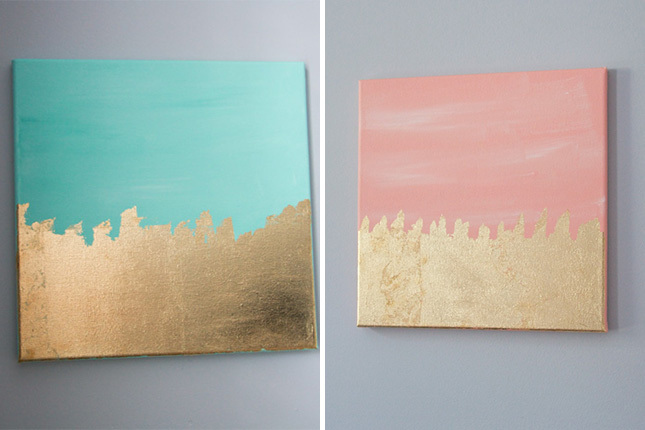 I think this one project takes care of DIY, organic & gold trends. Via Glitter & Goatcheese Blog
Gold and Brassy Details
Elements of gold and brass are popping up in furniture, accessories, and wall art at early design shows this year. Both cold and warm tones for gold and brass are trending, though rose gold is making a particular showing. You can incorporate rose gold elements as a DIY using leaf or wire from craft stores on frames, tables, and other items you already own.
Mixing Old Masters with New Accessories
Taking off from the themes of custom art and DIY design, a major trend for this year is pairing prints of the work of old masters like Van Gogh and Vermeer with new and modern décor. Similarly, thrift store finds of unknown but talented painters of years past – particularly those in vintage frames – are finding new homes grouped together with modern canvas prints and pop art.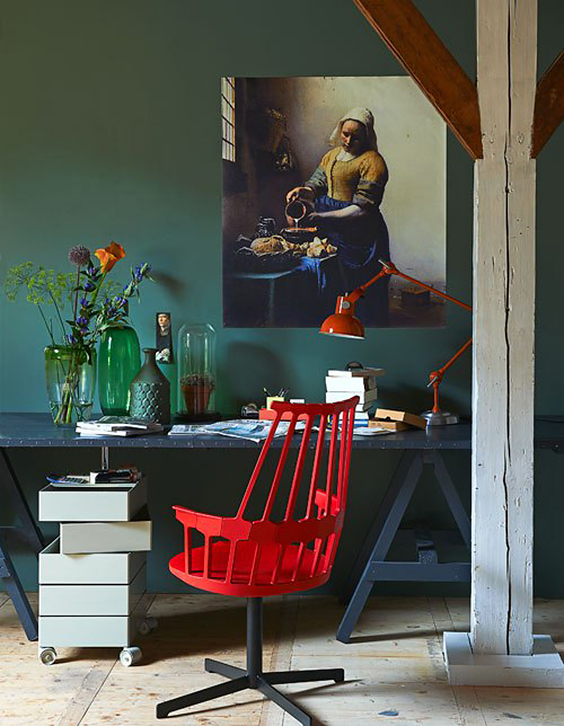 Beautiful example thanks to sageatelier.com
Frameless Photo Prints and Alternative Displays
Photo prints are breaking out of the frame to join canvas prints as stand-alone art. Alternative ways to display prints other than frames include clipboard installations, wood blocks, and simple (and easy!) wall tack hangings. The big trick to pulling off this look is to use groupings, making the art look deliberate and intentional instead of thrown together.
Custom Art
Custom art for your walls is a trend that is here to stay. Canvas prints from Canvas Press make it easy to create your own custom art whether you want to print portraits, landscapes, graphics, or any other type of printable art. You aren't limited to what can be printed; you can customize your canvas prints with DIY embellishing projects too, incorporating other wall art trends for 2015. Gold leaf the edges of your canvas in gold (smaller might work better), create word art that is special and unique to your life, or even crop your photos into unique panoramas. These are just a few ideas that you can do to create your own custom artwork. We are full of ideas, so if you want to do something special feel free to contact us at any time.