Kids are creative by nature and they don't need much to keep their imaginative juices flowing. They live in a world where a tissue box can become a race car as easily as the space underneath the dining room table becomes a dangerous (and perhaps forbidden) cave. There are, however, ten things that as a parent or caregiver you can provide to keep kids' art instincts strong.
1. Age appropriate tools.
Keeping sharp objects out of kids' hands is important, but letting them handle facsimiles like safety scissors designed for children increases their self-confidence and decreases your worry. Provide kids with basics like children's scissors and non-toxic glue that can be used for crafting with less supervision than the grown-up versions. For more information on age appropriate crafting, visit the
Washington Toxics Coalition
.
2. Markers, crayons, and colored pencils.
The ability to add color is important in most DIY art projects, and it's critical for kids' art. The number of non-permanent, wash-from-any-surface coloring tools available reflects the number one drawback of coloring utensils: in kids' hands, almost anything can be a canvas. This is especially a concern with markers, but don't let concerns prevent the use of crafting with coloring items entirely. Keep a box of the washable coloring tools at home even if they can only be used under supervision.
3. Paper.
Kids need to have a surface it's OK to draw on, right? Not to mention rip, cut, tape, and shape into 1,000 other uses. Whether it's colored construction, craft, or plain copy paper, be sure to always keep paper on hand for the kids' art projects. Paper projects are also easy to scan to preserve as photos on canvas.
4. Adhesives.
Aside from reliable non-toxic glue, it's good to have other adhesives available for when the stand-by isn't sufficient for a crafting project, or unexpectedly dried out. Kids of all ages can rip pieces of masking tape without sharp objects and handle the thick edges easily. Other alternatives include painter's tape and adhesive dots.
5. Cardboard.
Recycling is always a good idea, but many cardboard products can be recycled at home before being sent out to the curb. Keep a stash of clean cardboard like paper towel rolls, tissue boxes, cereal boxes, and spice canisters. Kids will make entire worlds out of these treasures. Start with these
34 ideas
from Kaboose.
6. Aprons, or secondary clothes.
Even with washable materials clothes get messy, and washable art supplies don't wash out of every fabric. Pick up a few art aprons (decorating these could be another art project!) or designate one or two sets of clothes past their prime as "art outfits".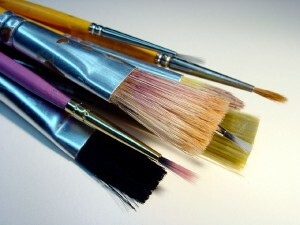 7. Brushes.
Think paint brushes, sponges, pipe cleaners, cotton balls, all "brushes" to transfer paint to surface. Think outside of the box by keeping these creative tools inside the art box for all DIY art projects.
8. Newspaper or designated-duty tablecloths.
Ask any artist – they need space to do their work, and they can't work if they can't get a little dirty. Protect tables and floors by always keeping newspaper or tablecloths available for impromptu crafting sessions.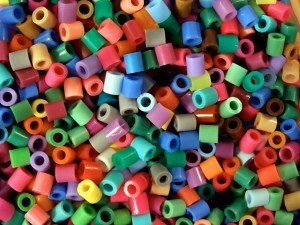 9. Embellishment box.
Craft stores sell many different embellishments, but you can stretch the budget by keeping a box of bought embellishments as well as "found" objects for kids' art. This could include buttons, unwanted costume jewelry, wiggle eyes, pom poms…just about anything that might catch the budding artist's eye.
10. Encouragement.
Kids need encouragement to learn and grow, and by taking an interest in their artwork you will encourage them to experiment and hone their creative skills, which will last them a lifetime. Use encouraging words and reinforce them with action, like hanging up their artwork or scanning it to print quality photos on canvas that will last and be cherished until they're grown. Photo Links: Photo courtesy
cohdra
Photo courtesy
ppdigital
Photo courtesy
arundo